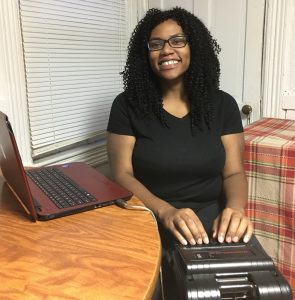 Brittaney Byers, of Cuyahoga Community College (Tri-C) in Parma, Ohio, has been working at the keys since she was 4 years old, practicing her drills and improving her finger dexterity. Before starting at Tri-C, she had been trained by some of the best at Cleveland State University. But Byers isn't a lifelong stenographer; she's a pianist who went searching for a different tune.
Can you talk a little about your background? Did you start the program straight out of high school or did you have another career first?
When I came out of high school, I was originally aiming for a career in music therapy. However, that didn't work out. I ended up studying at Cuyahoga Community College after leaving my previous university, originally for a degree in liberal arts, and then switching to the court reporting and captioning program.
How did you first get the idea of being a court reporter?
When I was studying at Tri-C, I was kind of unsure about what I should focus on studying while I was there, and I was looking for a career that would allow flexibility in my schedule and a lot of typing, which I enjoyed. (At the time, I had no idea that writing on a steno machine was any different than writing on a QWERTY keyboard.) I happened to be looking at television one day, saw the captions running across the bottom of the screen, and thought, "I wonder who does that, and I wonder if I could do that." I looked up stenography and found out there was a court reporting and captioning program at the school I was already currently attending! I just decided to go for it!
How does being a pianist translate into stenography? What about it makes it easier (or harder) to write?  
I think I'm better able to learn briefs and finger combinations than I would be if I didn't study piano. I also think I'm at a better place with my finger dexterity. However, the thing that helps the most is not from a writing perspective. Studying piano in school was very similar to studying stenography. Most of the things that my professors ask me to do now are the same as what my music professors asked me to do. Things like keeping a practice journal, reading back (or listening to myself) for feedback, using a metronome, isolating problem areas, and many other practice techniques are all things that I was introduced to (and continue to learn and work on now) while I was studying piano.
What other skill sets do you think would be helpful for a court reporter to possess?
The more I learn about this field, the more I realize how critical good organizational skills are to a successful court reporter. This is definitely something that I am still working on and will probably be working on for a very long time to improve. I can only imagine how much it takes to keep your schedule together for jobs (especially if you work with more than one agency), organize taxes and other financial things, and keep the rest of your life in order.
What kinds of challenges have you faced during your court reporting program?
My biggest challenge is trying to find a healthy balance between work, school, and life. I am currently working full time, which is not something I was doing when I was studying music, so trying to find the correct balance between earning enough income and having enough time and energy to practice is something that I am working to perfect.
What is the best advice you've been given so far?
I've been hearing this piece of advice in different forms and different places recently, but it still rings true. The biggest battle you have to fight will be with yourself. I have to continuously believe that I can do it. The speed is not going to be my biggest problem; it's going to be my mindset. I have to battle myself to get on the machine after a long day of work, to stay encouraged after a bad test, or to do just five more minutes of writing when I feel I can't anymore. I know if I can win the battle within myself and develop a positive mindset, and continue to improve my discipline, I will be able to succeed, no matter what.
If you were to go to a high school career fair to recruit students, what would you say to them about a career in court reporting and captioning?
I would let them know that if they wanted a career that would grant them a lot of flexibility and a high earning potential, they should join the court reporting field! We need more new faces! Of course, I would let them know that learning stenography and getting up to speed require a lot of discipline, but for the people who stick it through, there is great reward. I would tell them about the amazing experience I've had here at Tri-C and the awesome and supportive staff I've had the pleasure of working with. They will really do their part to make sure you have the best chance at success.
Where do you see yourself in five years?
In five years, I hope to have passed the RPR Exam, and to have finished the court reporting and captioning program at Tri-C. I really want to go out to southern California and work there either doing freelance work or CART.