By Claire Hill
The Edinburgh Festival Fringe is the largest arts festival in the world, which celebrated its 70th anniversary this year. The Scottish capital hosts more than 3,000 performances each August, featuring theater, music, comedy, dance, physical theater, circus, cabaret, children's shows, musicals, opera, spoken word, exhibitions, and events.
Accessibility has always been difficult to achieve at the Fringe. Tight budgets and the use of historical and found spaces generally mean that people with sensory and mobility impairments are not well catered to. However, the Fringe Society is committed to increasing accessibility at the festival, with guides for performers and venues on how to put on accessible performances and generally make their shows more inclusive.
Having visited the festival for a heady 36 hours in 2016, I knew I wanted to work there the following year, and I set about approaching venues, artists, production companies, and agents to offer live captioning in 2017. Initially, I was met with silence or a regretful: "That would be lovely, but there's no money to pay for it." But the Pleasance Theatre Trust responded positively to my call and suggested to all their companies that they program a captioned performance. As they run 23 venues with about 10 shows per day in each venue, this is a significant number of people reached! The result was that I was booked for 21 performances, one of which was a live comedy Accessibility Gala, and the remainder were scripted or semi-scripted plays. I'd hoped for more live comedy take-up, but for whatever reason, that wasn't forthcoming. I knew I would have to manage the scripts and make sure I got recordings in advance to try to output accurately.
Tech set-up
I used a 55" LED screen on an adjustable stand for all the captioning. Having LED rather than plasma meant there was less risk of stage lights washing out the screen and making the captions unreadable. Having an adjustable stand meant the screen could be higher or lower depending on the size of the venue. Being on wheels meant it could easily be moved from venue to venue (however, stairs and cobbles were a challenge!). A traditional three-line caption unit needed to be flown or rigged above the stage, leading to longer set-up times and more rigging than is generally available in Fringe venues.
I used Text on Top for software, which is designed for providing subtitles at conferences. It also has a full-screen and scripting functionality so that I could format the scripts and then output them a clause at a time. The LED screen was connected via HDMI to a laptop running the Text on Top display software, which could sit on the legs of the adjustable stand. My connection to that setup was wireless, so I could sit wherever was most convenient in the auditorium. Usually this was at the front, because of the need for a table, but it could also be at the back by the sound desk, if the show was mic'ed. Although we used the full screen for the bigger venues (displaying about eight lines of text), the display could also be confined to the top of the screen (displaying five lines of text) if there were likely to be issues with performers obscuring the screen.
I brought all the equipment with me to each venue: two laptops, power brick, battery-powered light, and Text on Top radio dongles. The Pleasance A/V team brought the LED screen and the table and arranged for the power in each venue.
In most venues, we had 15 minutes between shows to get in and set up while working around the companies moving sets in and tech changing lights or clearing up debris from the previous production. It was a quick turnaround, but no show was delayed because of the captioning!
Prep
For prep material, I asked for an up-to-date script from each company, sometimes more than one version, and a video, ideally from a previous performance during the festival, or older if no changes had been made. The Pleasance gave me contact details for each company, and I emailed each one direct requesting the script and a video if already existing. Most replied in a timely manner, but scripts were still being sent during the Festival run! The videos were either taken by Pleasance for archiving or shot by the company themselves on a GoPro. Having a recording is essential, so for one show I provided a digital audio recorder, which sat next to the tech team, to get an audio recording to compare against the script. To prepare the script for captioning, I stripped out all the stage directions, made the speaker labels consistent, clearly and concisely labeled the sound effects, and inserted regular punctuation, if not already present. I checked song lyrics, which aren't always included in a script, as well as spellings of proper names or technical terms. This takes four to five hours per script, including watching the video.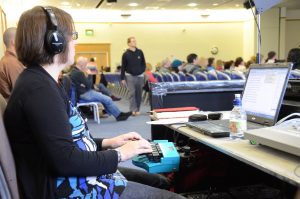 There are quite a few subjective decisions involved in creating a captioning file, like captioning sound effects. You always have to keep the audience in mind, so if a sound effect is obviously caused by an action on stage, it wouldn't necessarily be included. However, if it's off stage and then the characters go on to react to it, it should be included, like an explosion or a gunshot.
Describing music is also quite hard. If it's very much in the background, it should usually be left out, especially if there is speaking over the top. The Stagetext style guide talks about omitting music that has a subliminal effect. However if it's in the foreground, it needs to be described, usually in two words, which can be tricky. One word conveys the tone or emotional effect, and one word identifies the instrument. If it's a recorded song, the artist and the song name should be displayed. Caption users are often deafened or hard of hearing, so they might remember the song or can hear enough of the frequencies to recognize it. If the lyrics are clear and relevant, I output them if there's no other talking going on onstage. For example, Me and My Bee used the songs "Only the Good Die Young" and "I Believe I Can Fly," so the lyrics were definitely important.
In my experience at Fringe 2017, when the writer of the show was talking about something personal to them, they used broadly similar but slightly different words in each performance; this came up in, for example, Perfectly Imperfect Women by Danyah Miller and Testosterone by Kit Redstone. I wrote the monologues live, but then when other actors joined in, I reverted to scripted material so the script could be output line by line. Post Festival, I developed a checklist to try to identify at an early stage which performances might need a stenographer and which could use a theater captioner [Ed. note: In the U.K., a theater captioner performs a similar role as an offline broadcast captioner in the U.S.].
How it went
Generally, the captioning went really well and was positively received by the companies and the technical staff. Everyone was aware of his or her captioned show and happy about the opportunity to provide access. The screen was always set up with welcoming text before the audience started coming in so that caption users could work out the best place to sit so they could read the captions and see the actors. The Pleasance A/V team did most of the hard work of finding the power and positioning the screen each time. My job was just to set up the two laptops and make sure the text was a good size for the venue; that my setup was okay, with a small light to make my notes visible; and that the laptop was at a comfortable angle. Although there were slight deviations from the scripts, usually it was transposition of two phrases, in which case I outputted the two phrases one after another. If words were added, I had the option to write on the steno machine or type into the text window.
A few shows at the start had some unexpected issues:
On arrival at the first show, Once Were Pirates, the director came over and said, "Oh yes, it's our captioned performance, did you get the new script I sent you, we've changed most of it!" Of course, I hadn't received it, so I wrote that one completely live on the steno machine, as the scripted material previously formatted didn't match up with what was being said on stage. This was one of the performances that no video had been received for, so it really made the point of how important it is to get a recording.
The Young Pleasance production the Curse of Cranholme Abbey highlighted some weaknesses in the software when it came to multiple characters speaking quickly one after another. This was an extreme example, as there were 27 performers all keen to get their words in, but it led to some changes in the script formatting for future shows. I realized that each script file in Text on Top needed to be much shorter. After approximately 700 words, the output would start slowing down and the cursor would lag behind the text being output. After the first day, I made sure each script was split into at least 12 sections and that I had a full job dictionary ready to go for each show, with speaker names and special terms. Also, Text on Top has a Text Finder function, so as you type a word into the output window, it simultaneously searches for it in the open script. So if I missed words, I could use this to get back on track in my script. I wrote out the key sequence to escape from one script file and open the following one (Esc. – down arrow – right arrow) on a Post-it and put it on the laptop screen to remind me.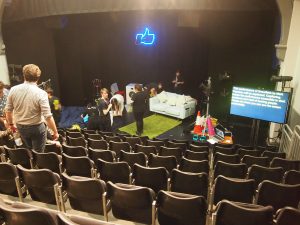 At the performance of Snowflake by Mark Thomson, the screen was plugged into a non-hard power source. As the performance began, the power block we were plugged into, which also controlled the neon sign at the back, was switched off as a lighting effect! Luckily, it came back on again, but the screen size had reset and there wasn't an opportunity to change it, so the text was a bit small throughout. To be fair to the crew, they appreciated the importance of this and didn't turn the neon sign off again, even though I think they were supposed to at a couple of points. After this, I made sure that each display laptop had a wireless mouse attached so that I could adjust the font size without having to crawl around on the floor!
Next year
Next year I will have a theater captioner on board to split up the shows between scripted and non- or semi-scripted. Then the captioner can prepare and output the scripted shows, leaving me to work on semi-scripted or comedy shows. This would mean we could do two captioned shows at the same time and work at a larger variety of venues. In 2017, I covered up to four shows per day, and this worked fine. The set-up would be the same, as Text on Top proved to be a very reliable system, once the speed issue had been worked out.
Getting a recording of each show, ideally in its Edinburgh run, proved to be essential, and the only shows where unexpected things happened were the ones where a recording hadn't been provided. Two staff members in Edinburgh would enable us to visit venues on previous days and audio-record shows in order to check the script and run a dummy output to check speed.
I've already booked the accommodation for next year and started contacting venues. Once bitten by the Fringe bug, you're never the same again!
Claire Hill, RPR, CRC, is a freelancer in London, England. She can be reached at mrsclairehill@gmail.com. This is a revision of an article that originally appeared on her website under the same title.