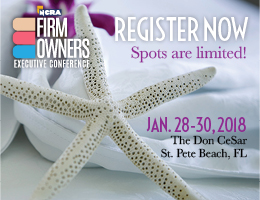 A trip to St. Pete Beach, Fla., in January to attend the 2018 NCRA Firm Owners Executive Conference makes the perfect gift for any freelancer or firm owner no matter what size the company. The deadline to register is Jan. 12 for this business-focused event that features opportunities for attendees to connect, learn, and energize as they network and join in stimulating and inspiring sessions. The event is Jan. 28-30 at the luxurious Don CeSar hotel.
"I have attended the Firm Owners Executive Conference almost every year since its inception. The seminars and keynote speakers provide me with a wealth of practical information and industry insight that is both timely and essential to our business's success," said Lisa DiMonte, RDR, CMRS, a freelance court reporter and CEO of Planet Depos in Washington, D.C.
"I am particularly excited about this year's keynote speaker, John Spence. His reputation as a successful business leader and executive coach precedes him, and I believe we will gain valuable knowledge from him that will help propel our business into the next level of achievement and growth. I look forward to reconnecting with old friends and meeting new ones at this year's conference in beautiful St. Pete Beach," she added.
Top business leaders top the schedule
The 2018 agenda features an array of innovative and interactive sessions led by some of the best leaders in today's business world.
Keynote speaker John Spence, one of the top 100 business thought leaders in the nation, will share his insights into achieving business excellence. He will also present his most intensive business improvement workshop, specifically created to help management teams take a hard, honest look at their business to determine exactly where their strengths and weaknesses are. The workshop will also help participants create a focused plan for how to succeed at a higher level in the marketplace. View Spence's personal invitation to Firm Owners.
Chris Hearing and Greg Laubach will present "Managing to Maximize Business Value." The presentation will focus on creating short-term profits and business value so attendees can learn how to plan as if they will run their business forever but act as if they'll sell it tomorrow.
SEO strategist, internet marketing educator, and owner of the Tampa SEO Training Academy, Steve Scott will lead a session dedicated to business marketing on the Web. He will touch on the secrets to search engine optimization (SEO) success, tactics and techniques for online marketing, and social media marketing, among other topics.
Industry outlook
The annual NCRA State of the Industry session will look at how the court reporting and captioning industry is doing now, what areas firms are developing, and what successes they are finding – all based on solid, current data. Having a real-world sense of what the industry looks like nationwide will help attendees know where their individual businesses fit into the big picture.
Ample networking

Numerous networking opportunities include the "Build-It, Mix-It, Who Will Win It" opening event that will lead into dinner, a networking power half hour, free time during lunch, and a closing reception. Also on the schedule are education events during breakfast sessions and a special welcome and meet-and-greet with NCRA's new CEO and Executive Director Marcia Ferranto.
Register now for the 2018 NCRA Firm Owners Executive Conference in January and discover what connection or tip will be the one that makes 2018 your best business year yet, no matter what size your company may be. Special hotel rates for the event will also expire on Jan. 5.