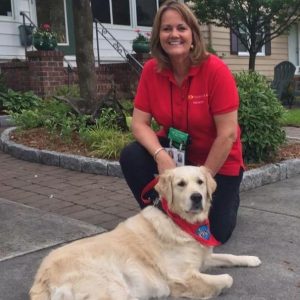 Penny Wile, RMR, CRR, owner of Penny Wile Court Reporting in Norfolk, Va., has been a court reporter for more than 30 years. She gives back to the community by volunteering for the Sentara Norfolk General Hospital therapy dog program and her local SPCA. She has also been featured with her therapy dog on her local news station. In January, she hosted her second Woofstock fundraiser event, which collected donations to support the Norfolk SPCA.
What prompted you to become involved with the local SPCA?
My enormous love of animals. There are so many animals in need of loving homes and families in need of affordable veterinary care. The Norfolk SPCA provides education to the community and a trap/release program for spay/neuter, just to name a few of their valuable services.
How long have you been involved in this work?
Woofstock II, held Jan. 13, 2018, was my second Norfolk SPCA fundraiser. We held Woofstock I on April 15, 2016, and raised $2,600 in donations. Woofstock II donations amounted to $4,000. I hire a band for the event, and we have a fun time while collecting donations for the SPCA. It's a win-win for everyone involved.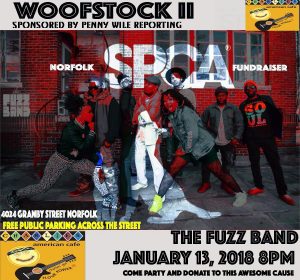 What other community service activities do you support?
I am also involved in the Sentara Norfolk General Hospital therapy dog program. My English golden retriever, Cora, and I visit staff and patients at the hospital. We both enjoy bringing happiness to others. When I put Cora's red scarf on, it's time to "go to work," and she is eager to go to the hospital and make her rounds. We have been part of the therapy dog program going on two years now. I have also recently been appointed as a member of the City of Norfolk Animal Welfare Board of Review.
What are the greatest benefits personally and professionally to being involved in community service activities?
The greatest benefit to my therapy dog program activities is that I am able to bring happiness to patients and family members at the hospital in a variety of settings. Some families receive comfort from Cora while a family member is gravely ill. Staff working in an extremely stressful environment can relax for a moment while visiting with Cora. It makes me happy to see smiles on the faces of staff, patients, and family members when we come through the hospital.
The greatest benefit to my Woofstock events is that through my business I am able to help the animals and the programs of the Norfolk SPCA by creating a fun evening, filled with great music and friends, all the while collecting much-needed funds for this worthy cause.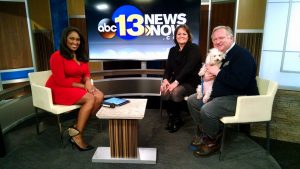 Why is giving back to the community important?
Giving back to my community is important to me. I am fortunate that through my success in my court reporting endeavors I am able to donate resources to programs that are important to me. Freelance reporting affords me the flexibility to be able to donate my time to participate in these programs.
What advice would you give to someone who is seeking to become involved in community service activities?
Anyone can become involved in their community. Find something that is important to you, that you are passionate about, and seek out programs in your area; start small and work toward more programs as time permits. As for me, animals are my passion, and helping people and animals through the programs I support humbles me.
The JCR Weekly will run a series of interviews featuring NCRA members who are giving back to their community in addition to an article in the April issue of the JCR.