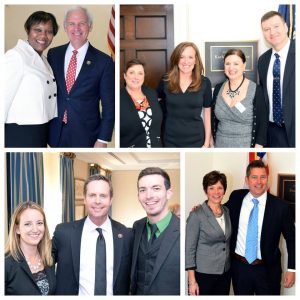 "The NCRA Legislative Boot Camp was a tremendous training opportunity," said Rachel Waterhouse-Schwalm, RPR, a freelancer and owner of Westphal Reporting, in Dubuque, Iowa. Waterhouse-Schwalm attended the 2016 NCRA Legislative Boot Camp and is currently the president-elect of the Iowa Court Reporters Association. "I continue to use the skills we received training on to this day, and they will always be of value," she said.
The 2018 event has two days of sessions on decision-making, grassroots lobbying, certification legislation, and more. But what makes this event unique is the location: our nation's capital, Washington, D.C.
While many of the sessions at Boot Camp are new, attendees will still have the opportunity to take the lessons they've learned and practice their new skills in mock meetings. In these mock meetings, attendees will test their strategies for speaking with legislators, and they will receive feedback to tweak their messaging and delivery.
"The mock hearings prepared me by allowing me to get my nerves out by practicing," said Meredith Bonn, RPR, an official in Webster, N.Y. Bonn also attended the 2016 event and is currently an NCRA Director after having served on the New York State Court Reporters Association board. "I must say having not an ordinary practice session, but a tension-filled, lifelike situation was eye-opening and helpful."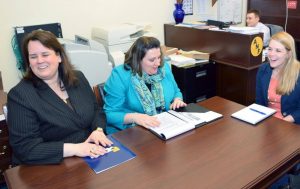 On the final day of the event, attendees will get the full D.C. experience, traveling by Metro to Capitol Hill and spending the day meeting face-to-face with their elected officials and staff and talking to them about the important issues that affect court reporting and captioning today.
"Being there in awe of all its history is amazing," said Bonn. "To have the ear and attention of our legislators was appreciated. To communicate a clear, concise, and useful message was empowering."
"Kara, our current Iowa Court Reporters Association president, had a meeting with the governor last week to do a press event for the signing of the proclamation for Court Reporting & Captioning Week," said Waterhouse-Schwalm, who attended with Kara Holland, RPR.  "Afterward she and our lobbyist, Bill Wimmer, went to meet at the capitol with state representatives. She mentioned how Boot Camp training really kicked in and made her much more comfortable in those meetings and helped her shape her arguments and talking points."
After a full day of D.C. action, attendees will wrap up their experience with a reception in the beautiful Library of Congress honoring the popular Veterans History Project (VHP). Many NCRA members have participated in the VHP, and this reception will help them have a deeper understanding of the value of this project and reporters' and captioners' participation in it. The reception will also allow attendees to compare notes and share wins from the day.
"The Boot Camp was a challenging experience that has value beyond measure," added Waterhouse-Schwalm. "Those training tools have been used both in board work and in many other ways. It gives you great confidence in advocating for your profession and your fellow reporters."
Register for the 2018 NCRA Legislative Boot Camp at NCRA.org/BootCamp by Feb. 23.