Planet Depos recently announced the winners of three $1,000 cash scholarships the firm sponsored in honor of 2018 Court Reporting & Captioning Week. The three winners were selected out of 47 applicants based on their answers to several questions. All applicants were required to be in high-speed classes or have graduated within the past year.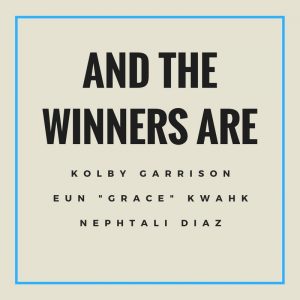 The winners included: Kolby Garrison from Greensboro, N.C., who attends the College of Court Reporting in Hobart, Ind.; Eun "Grace" Kwahk from Buena Park, Calif., who attends South Coast College in Orange, Calif.; and Nephtali Diaz from Pasadena, Texas, who attends Alvin Community College in Alvin, Texas.
The winners answered the following questions:
What motivated you to persevere when faced with a challenge or disappointment?
What do you feel is your greatest strength? What do you feel is your greatest weakness?
Where do you see yourself professionally in five years from now?
Planet Depos, a global firm based in Washington, D.C., invited three independent court reporters to judge the entries. The judges were provided no information related to the identity or location of the applicant. Judges included NCRA members:
Lisa Knight, FAPR, RDR, CRR, from Littleton, Colo.; Michael Hensley, RPR, from Dublin, Calif.; and Nancy Mahoney, RPR, from Cranford, N.J.
"As part of the mission of Planet Institute, we feel it is important to support both the court reporting schools and the students themselves. Schools provide the education that the students need to enter the workforce. Planet Institute offers internship and mentoring opportunities to bridge the gap between school and career," said Kathy DiLorenzo, FAPR, RDR, CRR, CRC, director of U.S. Court Reporting for Planet Depos.
"As court reporters, we know all too well what it takes to reach the final speeds of the program, so we decided to reward three outstanding students who were nearing completion. It seemed only fitting to offer the scholarships during NCRA's 2018 Court Reporting & Captioning Week."
Planet Depos launched its Planet Institute, a student-to-career mentoring program, during Court Reporting & Captioning Week in 2016.
According to DiLorenzo, the firm anticipated about 30 entries and was delighted when nearly 50 applicants applied for the scholarships. To get the word out about the scholarships, the firm posted a link to the application on various student and court reporting social media sites, as well as notifying each school by direct email.
"We were very pleased with the serious thought and overall effort of the students in answering the questions posed. We learned of their challenges. We learned of their disappointments and their personal triumphs. We learned of their perseverance. We learned of their hopes for the future," said DiLorenzo. "Each of the winners expressed sincere gratitude for the opportunity to compete for the scholarships. Planet Depos is proud to support the future generation of court reporters."