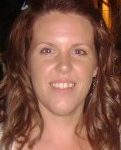 By Amanda Bavin
I've been a member of the British Institute of Verbatim Reporters since approximately 2004-5. Like most people, I pay the membership, take up the odd job offer, network occasionally and that's where it ends. In June last year, however, a BIVR advert for a Special Skills Film Extra caught my interest!
Someone from Pinewood Studios contacted BIVR, the advert went out, and so I emailed the contact. First, I had to go through "casting". This sounds more exciting than it was. Basically I had to run to my local Next shop and try on a few different types of suits and get the sales assistant to take photos of me in each suit and then email these over the Pinewood. [Ed. Note: Next is a British clothier company.]
Eventually I received a phone call to say Pinewood was happy with both me and the suit. I asked what film it would be. It was all subterfuge, and I was told only the code name of the film, which was Ancient Futures, and that "It's a good one." After Googling, I found out that it was probably the next Jurassic Park called Jurassic World.
The info about the filming day was very vague and sketchy. So when I hadn't heard anything the day before the shoot, I rang my brothers (who both work in the film industry), and they reassured me that it was normal to not receive any info until late on the evening before. Eventually I received an email with only the details of a random car park and its postcode near Pinewood. Setting my alarm for 3 a.m. the next morning, I was very excited (not how I usually feel before providing speech-to-text at a board meeting).
Bleary-eyed, I arrived on the wrong side of the car park and eventually found the minibus to a random location. I was rushed on arrival to the front of the queue for Hair & Makeup and Wardrobe, as runners shouted, "Here's the stenographer. Quick! Get her ready. They're about to shoot Senate scene." Makeup wanted a "natural look," which translates to "I should have packed my makeup bag."
Breakfast was eaten in the next minibus to the filming shed. Little did I know this was the start of about six meals – it was definitely an eat-a-thon. At this point I still didn't know for sure if it was Jurassic World, but I got some very helpful advice from other extras on the minibus, such as how not to look at the cameras or get distracted, etc., and just do exactly what the director asks of you.
On arrival, I stumbled across the set in the heels that wardrobe had kindly given me and set up my Stenograph Luminex machine as requested to the right of Jeff Goldblum. If you're as old as I am, you'll remember him from The Fly. He then came over and introduced himself and thanked me for doing the Special Skills role. He was lovely. I was shocked throughout the day at how hard he worked. I assumed the stars would be let off repeating their lines: He worked from 9 a.m.-6 p.m. and was very professional.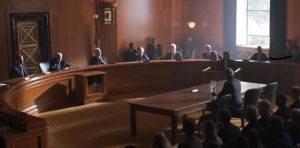 The next day, I was told filming would be in Hawaii — of course I would make myself available. The nine hours of filming went by in a blur. I felt sorry for the extras who were part of the audience as they had fake daylight on their faces for hours and so got very warm. It was strange doing the job for real when everyone was talking about dinosaurs; next time I'll input a shortform for Tyrannosaurus Rex.
No one can say that the stenographer isn't really writing properly for this film; it's authentic. We had regular breaks, but it was a repetitive day with the director's voice booming out every so often.
So if you go to the cinema to watch Jurassic World: Fallen Kingdom, look out for me in a black suit jacket to the right of Jeff Goldblum. He gives a speech in a Q&A during the Senate scene.
This is probably the best day of my career to date, and next time I hope to get some lines!
(Official trailer – https://youtu.be/vn9mMeWcgoM )
Amanda Bavin, NRCPD-Registered Speech-to-Text Reporter/Stenographer, is a freelancer based near London, UK. She can be reached at www.abavinsteno.co.uk.