By Max Curry
Pat O'Brien's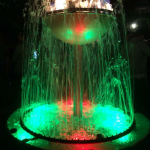 Yes, it is a little touristy, but a fun time to be had by all. Some of my favorite memories in NOLA over the years have been at Pat O's. It is the home of the world-famous hurricane, and there is no better or more affordable place to get the drink. They do a first-class job with their hurricanes, and they are always consistent.
Pat O's is divided up by its courtyard into three separate bar areas. Sit in the courtyard by the flaming fire and water fountain with friends and get lost in conversation and drinks. The front bar area surprisingly has a great assortment of food options that are well prepared. When you are ready for a change, head to the piano bar at the backside of the courtyard and for $1 and a song request written on a napkin, you can have a fun-filled sing-along with old and new friends. Photographers come through and will take traditional black-and-white photos of you and your group for lifelong cherished memories. Continue to enjoy drinks from servers who work the room. However, these drinks taste like Kool-Aid and will sneak up on you quickly, so pace yourself and always have a friend or two with you if you're indulging in an adult beverage, as the pickpockets and troublemakers look for the lone antelopes who have had one too many wobbly pops.
Bourbon O'Bar
Located at Bourbon and Orleans Streets, this is mine and James's favorite bar in NOLA. It's also my cousin Syd and her husband's favorite hangout as well, plus many other friends who love the city. If we're in NOLA for a long weekend, you can find us here at some point. The bar is part of the Bourbon Orleans Hotel and is a very grown-up kind of bar. If you're looking for loud and rowdy, this is not your place. It's a bar on the fringe of the party — a good place to be a part of the party but just outside of it, able to observe, but not in the mess.
The drinks are a little more expensive than anywhere else on Bourbon, but well worth it. All the drinks are made with fresh ingredients right in front of you. The lemons are zested right in front of you; the oranges are squeezed; the grapefruits are puréed all right there while you watch. You can taste the difference in the quality of their adult beverages.
In addition to the bar area, there are couches divided up into living room areas for you and your friends to gather, enjoy a drink and appetizers, tell some stories, and enjoy each other's company, all while watching the party on the street. They are also known for showing old classic movies to set the tone for the bar, and there is great live jazz music nightly.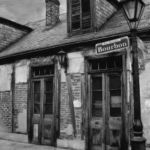 The Pirate's Bar (Lafitte's Blacksmith Shop)
At the very end of the entertainment area on Bourbon Street where the residential part begins, the Blacksmith Shop has an interesting history of being a blacksmith's shop and bar that was a cover for pirates in Old New Orleans, one of the most notorious of which was the pirate Jean Lafitte. Now it is a much-loved hangout for locals and tourists alike. It is a small bar with a small courtyard adjoining. It is a dimly lit but fun gathering spot. At the back of the bar, pull up a chair around the piano, have a drink, and sing along to your favorite songs being played live. It is a tremendous amount of fun.
Krazy Korner Bar
This bar is appropriately named, because it's a krazy time inside! They have live music daily and nightly. It's more of a jazz and blues kind of joint. There is always a fun time to be had at Krazy Korner, though. They have an upstairs balcony to hang out with friends, have a drink, and do some great people watching from above.
Carousel Piano Bar & Lounge
The Carousel Bar is famous for the fact that the main bar area rotates very slowly, like a carousel, hence, the name. It is located in the very upscale Hotel Monteleone on Royal Street. Try to go in off times, because this is a very popular bar with locals as well. It is sometimes difficult to find a place to sit. They also serve food, and there is live piano music most of the time.
Old Absinthe House on Bourbon
This is one of my favorite people-watching spots and, in my opinion, the best place on Bourbon Street to get a Bloody Mary (second best in the City), although they are also known for their absinthe drinks. Take your time and soak in the atmosphere.
Grapevine Bar & Bistro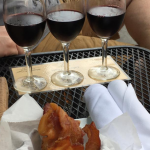 I already spoke about the Grapevine. This is my favorite spot in the city from 4 p.m. to 6 p.m. during happy hour for flights of wine, complimentary fried bacon, and great people watching.
Lafitte's in Exile on Bourbon
Not to be confused with the Pirate Bar, Lafitte's is a very eclectic, mixed crowd. It is known as a gay bar, but not so much anymore. It is more of a mixture of everyone and anyone nowadays. Thursday evenings are a lot of fun as they do karaoke upstairs. They have a great balcony that runs along two sides of the building with bistro tables, so it's a great place to view the city as you can see all the way down Bourbon Street back to the end at Canal. They also display dance videos onto the wall of the building across the street on Bourbon and play music. There are always people dancing in the street here.
Lafitte's in Exile is on Bourbon and half a block from the Blacksmith Shop/Pirate's Bar heading away from the hustle-bustle of Bourbon Street, so a little more laid-back and a great place to hang with friends outside of all the craziness that can be the Quarter and Bourbon Street.
The Swamp
Now you're back to the craziness again. A great dance club with an outside courtyard where you can ride an electronic bull if you'd like. I have seen a few folks get bruised on the bull after too many wobbly pops (wink, wink, Amber). It is always a fun time at the Swamp with modern dance music. Tends to be a crowd of people in their twenties and thirties, but all are welcome. It is a good mixed crowd.
The Cats Meow
This bar always has a great band with dancing abound. Bands can be anything from jazz to rock to current mainstream to 1970s classics. They are also known for their karaoke, so be sure to check the schedule. It's a fun place to hang out, dance, and cut up with friends.
Dance Clubs Oz & The Pub
(On Bourbon and across the street from each other)
Both bars are gay bars, but awesome dance clubs with a very mixed crowd. Always have great DJs, great drinks, great music. Oz is known on Friday and Saturday nights as the place to go to get your dancing on. Disclaimer: They also both have go-go dancers on the bars, so don't go if you are going to be shy or embarrass easily.
The Funky Pirate Bar
They always have a great band, which can be a mixture from blues to 1960s, 1970s, 1980s classics. However, this bar is not known for their drinks, so bring your own. New Orleans is that kind of city – one where you can wander around with a drink in hand, as long as it is not in a glass container. Most bars will let you bring a drink in, but not all.
Tropical Isle
The home of the world-famous hand grenade drink, Tropical Isle offers a great time to everyone. It's on the corner of Orleans and Bourbon, right across the street from the Bourbon O'Bar I wrote about earlier. It is a fun little place with an upstairs balcony area for street viewing while enjoying an adult beverage. They also have a live street cam where you can appear to the world in all your glory. Note: It was featured recently in the movie "Girls Trip." Remember the scene where they were zip lining across Bourbon Street? Enough said!
Fat Catz
Great dance club with live music daily and nightly. They play an eclectic blend of music. Drinks can be a bit pricy here, so come for the entertainment and maybe buy your drinks elsewhere.
Don't you want to visit New Orleans now? Register for the NCRA Convention & Expo.
Max Curry, RPR, CRI, is a freelancer, official, and agency owner in Franklin, Tenn. He is also on NCRA's Board of Directors. He can be reached at max@elitereportingservices.com.