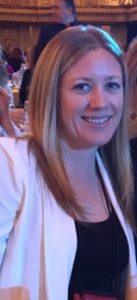 Michelle Myott attends South Coast College in Orange, Calif., and has been a student member of NCRA since 2015. This year she will be attending her third NCRA Annual Convention & Expo. She hopes to graduate before her fourth.
UTS | What is it like to be a student at Convention?
Myott | Attending the Convention the last two years has been so encouraging to me. After last year, I went home feeling so positive and motivated and I passed my next speed within two weeks. The average person doesn't understand what court reporting school is like. From going to the Conventions I have met some other students who I still am in contact with, who I can talk to about how school is going, and we help each other out. You will meet working professionals from your own state as well as from all around the United States.
UTS| Have you been able to network with other reporters in the field?
Myott | My aunt, who is a court reporter and my mentor, got me involved with NCRA. As a student, it is so nice to know someone to help you get involved and help you meet other working professionals as well as other students.
UTS | What is the best way to connect or make friends with other students at Convention?
Myott | It is important to get connected with other students at the Convention. I have stayed connected to other students through social media. We all have the same struggles in school and we need to support each other.
UTS | What was your favorite student seminar at Convention and why?
Myott | You will also attend seminars that touch on some very relevant topics in the court reporting world. I highly encourage other students to get involved as much as possible. My favorite seminar at the Convention was the "mock trial." We got to see how it would go from the court reporter's perspective. The reporter would stop and explain how to handle each situation that came up, and we got to hear how other reporters would handle the same situations.
UTS | Anything else you would like to share about Convention?
Myott | There are always amazing motivational speakers and, I feel that every student needs to hear these every so often to help get through school. I have learned so much from attending these Conventions and met some really great people. Every year I leave the Convention with a new excitement for this career that I will be starting.
Don't miss your chance to save on 2018 Convention registration fees. Register by July 23 to save!