The Gift Basket Extravaganza sponsored by NCRA's Government Relations Department to benefit the Association's PAC (Political Action Committee) raised $1,905. Eleven states and NCRA participated in the fundraising event held at the Association's 2018 Convention & Expo that took place in New Orleans Aug. 2-5.
Among the states that packed baskets full of items representative of their states were Arizona, California, the California Official Court Reporters Association (COCRA), Colorado, Florida, Georgia, Kansas, Michigan, Mississippi, West Virginia, and Wisconsin. Items ranged from bottles of wine, cheeses, various snacks, baked goods, fiesta ware, beach items, and more. NCRA's basket featured Washington, D.C. memorabilia.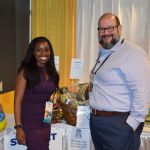 The winning basket was donated by NCRA student member Shaunise Day on behalf of the COCRA, and featured an array of California-related items including some top-notch champagne. Day won a registration to the 2019 NCRA Legislative Boot Camp for her most popular basket. NCRA member Michael Miller, FAPR, RDR, CRR, a freelance court reporter from Houston, Texas, won the COCRA basket.
"This fundraiser was very successful in raising money for an important cause, and in getting members excited about the PAC and what it does," said Matthew R. Barusch, NCRA's Manager of State Government Relations.
"The states that contributed to the fundraiser really stepped up with some incredible donations, and showed off real state pride in each and every basket. Thank you to every state who contributed to this new fundraiser, and to the PAC Governing Board for planning a big hit at the convention, this would not have been a success without you. I see this fundraiser being even bigger and better next year, and hope that even more states will take the opportunity to show off their states in Denver!"