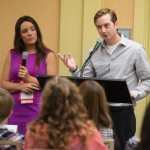 NCRA has issued a call for presentations for the 2019 Convention & Expo which is the largest gathering of captioners and court reporters in the United States. Presentations on a variety of topics, including state and federal regulations, speedbuilding, marketing, health and wellness, trends in technology, and software training, are being sought for the event, which will be held Aug. 15-18 in Denver, Colo.
"Presenting is a great opportunity and platform to share your experiences and knowledge with other working court reporters, captioners, and legal videographers. Our peers make a wonderful, welcoming audience," says Merilee Johnson, RDR, CRR, CRC, a freelance reporter and CART captioner based in Eden Prairie, Minn., who co-chairs the NCRA Education Content Committee. "If you have expertise surrounding a certain topic, such as realtime, ethics, or technology, or if you have lessons to share from your experience in the field, consider becoming an NCRA presenter.  There's no better resource than learning from our fellow working reporters and firm owners."
Johnson, who has presented sessions on realtime, technology, and captioning in the past for national events, says that becoming a presenter helped her meet new people and make connections that aided her career. Stepping up to be a speaker also boosted her confidence and helped shift her perspective. "It was a wonderful experience for me personally," Johnson adds. "It helped me grow in ways I did not expect."
Visit NCRA.org/presentations for more information or to submit a presentation for consideration.