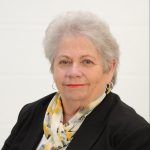 By Sue Terry
It's a great new day at NCRA! I want to communicate with you some recent changes in the leadership of your organization.
As previously announced via social media and email to you, our members, I'm pleased to announce the return of Dave Wenhold, CAE, as NCRA's Interim CEO & Executive Director and lobbyist. Jeffrey Altman of Whiteford, Taylor & Preston has also returned to serve as NCRA general counsel. Both bring forward-looking vision and vast institutional knowledge, as well as a historical background of the culture of our Association that can serve us all as we bring our membership into the future.
I'm also pleased to announce the four new Board members who stepped up at a moment's notice to fill the recently vacated Board positions: Jason Meadors, FAPR, RPR, CRR, CRC, of Fort Collins, Colo.; Sarah Nageotte, FAPR, RDR, CRR, CRC, of Jefferson, Ohio; Brooke Ryan, RPR, of Sacramento, Calif.; and Heidi Thomas, FAPR, RDR, CRR, CRC, of Acworth, Ga. They represent teamwork and diversity of opinion with unwavering respect for the principle that they are endlessly committed to the mission of NCRA and protection of our profession.
NCRA is grateful for your continued loyalty and support and understands that membership is a choice we all make. I've been honored to be able to represent your interests and will always have you, the member, in mind when decisions are made that affect your future and the health of the profession. All the best for 2019!