By Cindy Isaacsen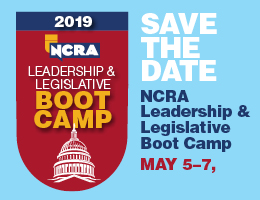 The first time I went to Boot Camp, I was excited and terrified. I had heard so many things about it – and I was thrilled to finally have the opportunity to learn how to advocate for the profession.
When I arrived at Boot Camp, it was everything I could have ever expected and more. I was taken out of my friend zone and my comfort zone, and I was put with a table full of strangers who were also my peers. We all worked harder in those few days' time than I ever had. I was stressed and exhausted and exhilarated. One might wonder where can you get all these emotions and feelings? Go to Boot Camp, and you'll understand.
Boot Camp ends with a trip to visit our state representatives on Capitol Hill in Washington, D.C. Dave Wenhold, CAE, PLC, NCRA's Interim Executive Director, and the other NCRA staff members who presented several of the sessions for the training portion that year, had thoroughly prepared us for what might come our way, how to present our agenda, and what to do when we were rushed or forgot what to say. When we got to the Hill, I was terrified. But we had our assignment, and we were as prepped as we could be. We talked to our representatives or their staff members, and we gave our spiel and were well received. I was completely stoked about what I had learned, and I was ready to bring what I learned back to my home state and my association and see what it could do for us.
I went back for a second round of Boot Camp because I felt like, "Well, if I got a lot the first time, what might I get the second time?" I was impressed with how much I remembered, but I was able to really work on my weaknesses and help others in the group feel more confident and excited about the task in front of us. I took my good friend Dani Murray, RMR, CRR, with me this time, and we killed it. We both worked hard in our groups. I was able to be more of a mentor to the newbies in my own group, and it felt good. It really is true when they say that to really reinforce what you've learned, you should teach it and share it with others.
If I could tell reporters and leaders one thing, it would be go to Boot Camp! It's the one leadership opportunity that can change your life — not only in the court reporting profession, but in all aspects of life. You become a better leader, and your confidence soars.
Just as an example, after this training, the state employees, including me, were trying to get a raise as we hadn't had one in 10 or 15 years. We went to our capitol and we tracked down our local representatives to encourage them to vote for the raise. One of the people we had to talk to was a rather tough cookie. I saw her and asked to talk to her, but she kept walking, so I locked in step with her and I talked to her all the way to the door where I couldn't go past. I turned around and all the leaders of this group had their mouths wide open, couldn't believe that I took her on.
If you are ready to really make a difference in your profession, don't miss this chance to learn how to be a great advocate for yourself and for your profession.
Register at NCRA.org/BootCamp.
Cindy Isaacsen, RPR, is an official from Olathe, Kan., and a member of the NCRA Board of Directors. She can be reached at Cindy.Isaacsen@jocogov.org.