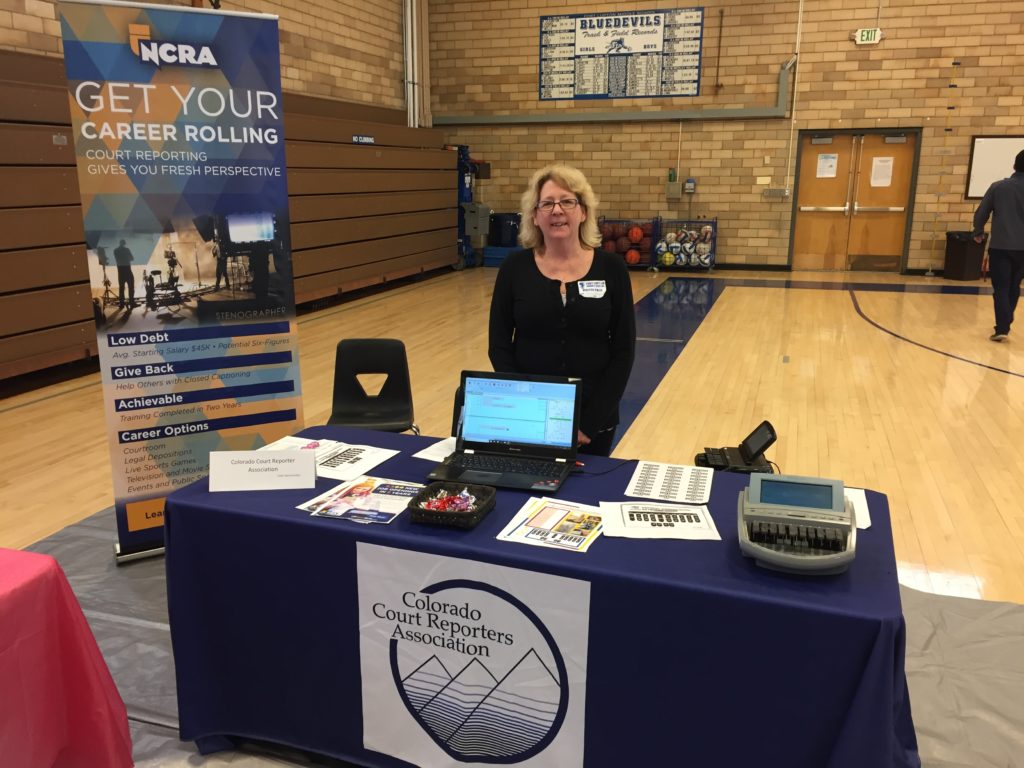 Congratulations to the Arizona Court Reporters Association (ACRA) on winning the NCRA 2019 Court Reporting & Captioning Week proclamation drawing. ACRA President Kate Roundy, RPR, a freelance court reporter from Phoenix, Ariz., submitted the proclamation signed by Gov. Douglas A. Ducey.
This was the first year NCRA has offered the chance for state associations to enter a drawing for a free national Convention & Expo registration. A total of 16 states submitted proclamations.
"Arizona participates every year in NCRA's Court Reporting & Captioning Week because, heck, we deserve the recognition, don't we! We are a proud state that believes wholeheartedly that promoting our profession and recruiting for the future is our #1 priority," Roundy said. "It's important that we continue to educate our country of our vital role in the integrity of our judicial system as well as our essential role in providing captioning to the public."
NCRA member Lisa Wagner, RPR, an official court reporter from Highlands Ranch, Colo., won the grand prize of a free NCRA Convention & Expo registration sponsored by the National Committee of State Associations (NCSA). Wagner delivered 11 presentations promoting the profession during the NCSA Challenge that kicked off at the 2018 NCRA Convention & Expo in New Orleans, La., and ended with the last day of 2019 Court Reporting & Captioning Week held Feb. 9-16.
"I think it's so important to participate in not only Court Reporting & Captioning Week but also other events such as career fairs and presentations to help promote the court reporting and captioning profession," said Wagner.
"We really have a unique skill, and students are truly amazed and excited to see realtime or to touch and write on a steno machine. I asked a group of eighth grade girls what they thought a court reporter did. One girl answered hesitantly wasn't it some kind of code. When I told her that she was exactly right, that it is a code or shorthand, she had a wonderful look on her face and said, 'I never get anything right!' That young lady will remember court reporting. That's why I do this, to see the looks on their faces," she added.
First prize in the NCSA Challenge went to Kristen Wurgler, RPR, a CART captioner from Cottage Grove, Wis., who participated in six events promoting the profession including educating co-workers about the benefits of CART captioning.
"Honestly, National Court Reporting & Captioning Week is one of my favorite celebrations of the year. It's my privilege to work as a CART provider at the University of Wisconsin-Madison," Wurgler said.
"My colleagues at the McBurney Disability Resource Center are disability accommodation specialists who potentially will be recommending a CART accommodation for deaf and hard-of-hearing students. They need to be familiar with how CART works, the challenges of it, and the environments in which CART can be beneficial (remote or in the classroom). I believe every member in a team needs to be celebrated so that we can encourage and support not only each other but, as a CART provider, the students we serve as well," she added.
NCRA's 2019 Court Reporting & Captioning Week was celebrated by state associations, members, students, schools, and vendors in a variety of ways that showcased the profession and the skills needed to learn and write on a steno machine. Several-last minute activities adding to the long list of how people celebrated the week are listed below.
NCRA member Patti Ziegler, CRI, CPE, court reporting program chair at the Des Moines Area Community College was featured in a segment about court reporting that aired on WeareIOWA.com about the court reporting and captioning professions.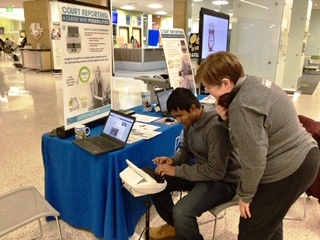 The Madison College in Madison, Wis., court reporting program produced a video for YouTube about court reporting and captioning careers that features Jane Kohlwey, a current student and attorney. The school also hosted an information table on campus to showcase the professions.
Plaza College in Queens, N.Y., produced a radio announcement to celebrate Court Reporting & Captioning Week that was aired on AM970 during the Joe Piscopo show. The school also hosted reporters from local newspapers and participated in the NCRA Student Speed Contest.
Students at Ohio's Cuyahoga Community College's (Tri-C) court reporting and captioning program also held a number of events in honor of Court Reporting & Captioning Week.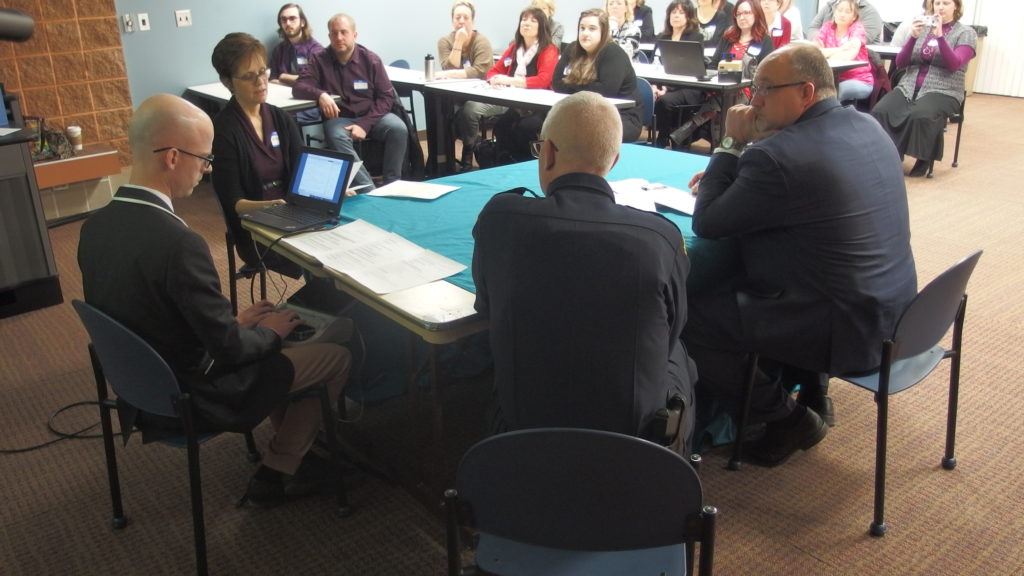 In addition to an annual write-a-thon and bake sale in the school's Galleria, the students obtained sponsor funds from professionals, friends, and family to write on their steno machines for four hours. While writing, they mirrored the Birdbox Challenge, by putting a blindfold on to prevent them from watching their screen.
Other activities included a professional pop-up sponsored by the Court Reporting and Captioning Club that afforded students the opportunity to see live demonstrations and chat with professionals, and a mock deposition was held that featured Timothy Peters, a Tri-C graduate and official court reporter in the role of the court reporter. In addition, Tri-C's associate dean, Dr. James Ploskonka, acted as one of the attorneys, while full-time faculty member Dr. Jen Krueger served as the opposing counsel. Finally, a real detective from the city of Cleveland's police department served as the witness.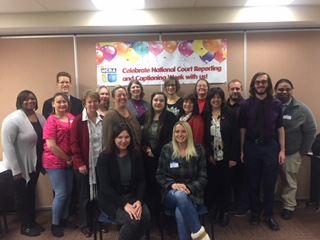 Students were also treated to a remote demonstration of CART and caption by Tri-C graduate Deana Kohn via WebEx, during which she captioned a wide variety of events from game shows to live news broadcasts.
Read more about NCRA's 2019 Court Reporting & Captioning Week.
2019 Court Reporting & Captioning Week celebrated big across the nation
NCRA members gear up for 2019 Court Reporting & Captioning Week
2019 Court Reporting & Captioning Week is happening nationwide
2019 Court Reporting & Captioning Week celebrated in the media and on social media
Thanks again to everyone who participated in 2019 Court Reporting & Captioning Week and who made this seventh year of celebration a great success! Mark your calendars now for 2020 Court Reporting & Captioning Week happening Feb. 8-15.
Remember, even though 2019 Court Reporting & Captioning Week is over, you don't need to stop showing your pride in being a court reporter or captioner. Keep up your activities to promote the profession year-round. NCRA has a number of resources to help members promote the profession throughout the year. Below are just a few:
NCRA's Court Reporting & Captioning Week Page
Contact pr@ncra.org for more information about what's available.