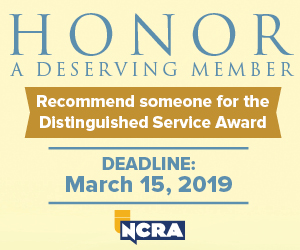 Has a peer or colleague gone above and beyond to support NCRA and the court reporting and captioning professions? Then consider nominating that person for NCRA's 2019 Distinguished Service Award (DSA). The deadline to nominate someone for NCRA's 58th DSA is March 15.
The DSA is the highest honor NCRA can bestow on a member. It recognizes the distinguished work and service by an individual member for the benefit of the court reporting profession, including service to NCRA as a member, a committee member, a director, or an officer of the association. Other displays of distinguished work include contributing to the JCR or service at a state court reporters association or in the field of public relations or public affairs. Award winners are recognized at the NCRA Convention & Expo.
"While attending the convention I had no idea I would be receiving this great honor. I do recall that about four years ago my dear friend Louis Rennillo sent my name in to be nominated. But not having heard about it again, I didn't think about it," said 2018 DSA recipient Heywood (Woody) Waga, FAPR, RMR, CRR (Ret.), a retired court reporter from Montclair, N.J. "I just thought the DSA Committee had so many more names of people more deserving of this great honor. I still feel that way. There are great reporters who have been overlooked," he added.
"When the description of the recipient was being announced, all of a sudden I realized they were talking about me. My daughter, Lauren Schechter (a great CART reporter), was sitting next to me and smiling; she said, 'Dad, go get your award.'"
Only voting members of NCRA or recognized court reporting associations can submit nominations that will be eligible for consideration. In addition, nominations must include information supporting why the nominee should be considered. Finally, DSA candidates cannot be an active member of the DSA Committee or the NCRA Board of Directors.
The purpose of the Distinguished Service Award is to encourage and recognize work amounting to distinguished service by individual members for the benefit of the reporting profession. A recipient of the DSA:
Must be a Registered Member of NCRA in good standing or a Registered Retired Member who was a member in good standing upon retirement
Cannot be an active member of the DSA Committee or an active officer or director of the Association
Must have been involved in NCRA affairs on an extensive level, along with service to state and other reporting associations, public affairs and public relations, writing for association publications, and the advancement of the profession
"Receiving the DSA has meant the depth of accomplishment to me. There is no greater reward than to be recognized by your peers. It came to me at a particularly sensitive period in my career. I had retired a short while ago, and I truly missed the involvement and challenges to overcome. I guess that's for others to do their own way. I respect that," Waga said.
"I hope that other professional members would think of worthwhile candidates to receive this great award in the future and send in their nomination. Thank you for giving me the opportunity to say, 'I love the profession of court reporting as well as this great association representing the interests of all its members.'"
Voting members of NCRA may submit nominations through an online form, by email to dsa@ncra.org, or by mail to NCRA, Attn: DSA, 12030 Sunrise Valley Dr., Reston, VA 20191, by March 15. Click here for more information.