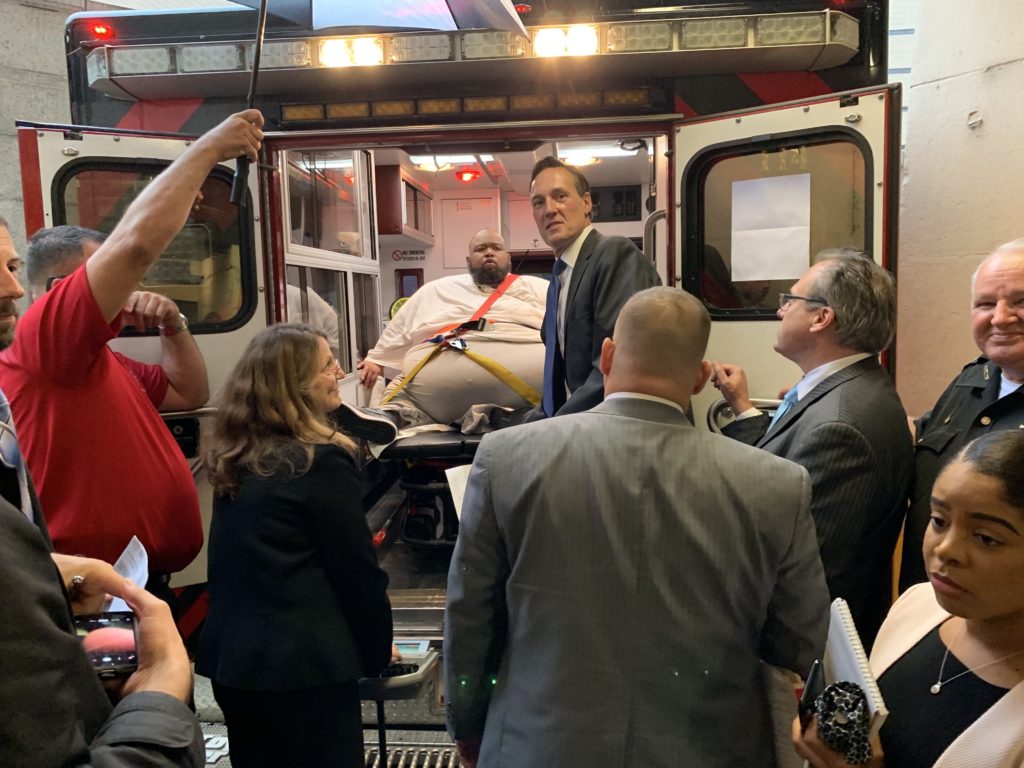 Earlier this month, NCRA member Taleesa Smith, RPR, an official court reporter from Hamilton County, Ohio, found herself reporting a sentencing proceeding from outside of an ambulance.
"This was the most unique situation for me as a court reporter," said Smith, who has been an official court reporter since 1997.
"When I went to court that morning, the bailiff told me we were taking a plea outside in the ambulance because the defendant was not able to come up to the courtroom in the elevator because he was a very large man and very ill with oxygen and had trouble breathing," she said.
Turns out, Smith was the official court reporter for a case that made national news. The case was that of a 600-pound drug dealer who was being sentenced after pleading guilty to cocaine trafficking and being a felon in possession of a gun. Because of his size and health-related condition, the proceeding took place in an ambulance since he could not be moved into the courthouse.
Because of the defendant's size, there was no room in the ambulance for Smith to set up her machine, she said.
"It was raining that day. I extended the tripod as far as I could, and I stood at the back of the ambulance. The judge was halfway in and halfway out of the ambulance. The bailiff and EMT personnel held umbrellas over me so my steno machine would not get wet," Smith explained.
"It was very noisy because of the rain and because the engine was still running on the ambulance. It was just a simple plea and sentencing," she added.
Smith said she was very pleased at how the presiding judge took his time with the defendant, asking him if there was anything he needed or if he needed water.
"The defendant, when asked if he had anything he wanted to say, just muttered, 'my throat.' He was able to answer all the questions with a yes or no, but that was all," Smith added.