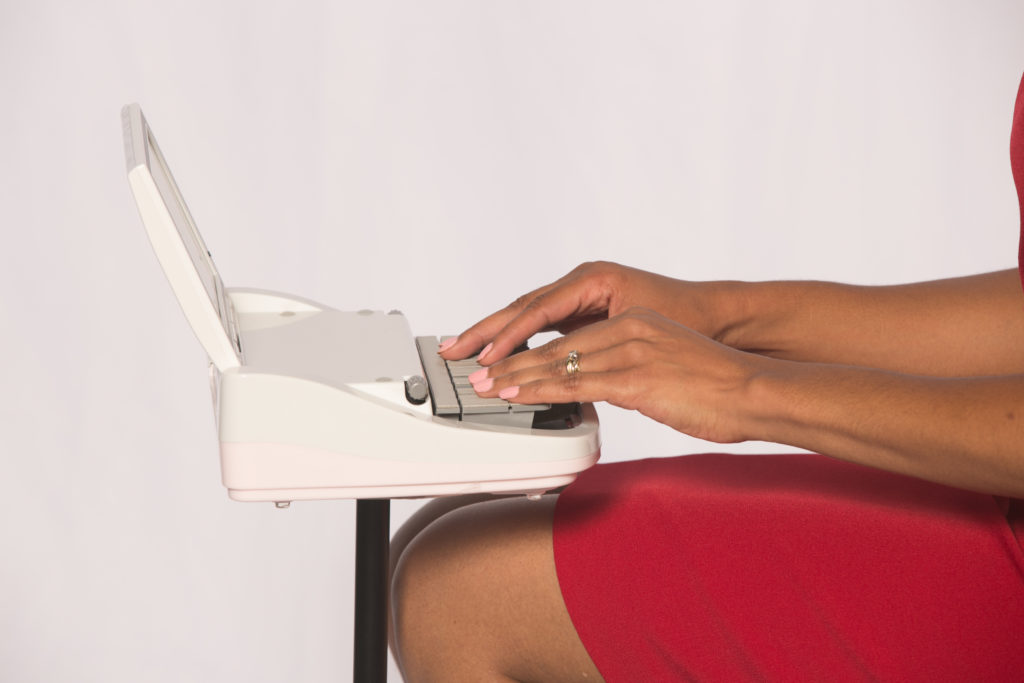 Speed and accuracy enthusiasts, don't miss this year's National Speed and Realtime Contests taking place at NCRA's 2019 Convention & Expo happening in Denver, Colo., from Aug. 15-18. Start your convention excitement early by registering to participate in one or both contests or by attending as a spectator and cheering on your favorite contestant. Contest registration can be found at NCRA.org/Convention.
NCRA member Kathy A. Cortopassi, RMR, CRR, CRC, a captioner and owner of Voice to Print Captioning from Chester S.C., has competed in numerous state and national contests. For those who are considering competing in this year's events or for those returning to the ring for another shot at greatness, she offers the following advice:
"Loosen up! If you write anywhere around 260 wpm regularly, you're going to be fine. You speed up when you need to at work; this is just five minutes. You endure much more than that on every job! Soak up the advice you hear in the room of superstars. Apply what you can; shelve or flush what you cannot.
"And don't make any brand-new changes to your dictionary/writing in the weeks leading up to the contests, like I did last year. Bit me in the butt royally on a test I know I would have done so well on. I made a conflict out of toe/tow. Eclipse was supposed to be smart enough to differentiate between the two, right? Probably what more likely happened is I didn't global them right or have a setting right. And guess what words came up in the Realtime test over and over again? I didn't beat myself up; I just laughed and figured, yep, you knew better. Figures it would be those exact words you worked on that would come up in the test, you dummy! So trust your skills, your dictionary, your writing, and your experience.
"There really isn't too much practice time before the contests. So do your own in the privacy of your hotel room. Don't spend precious minutes before the test warming up. Schmooze with the superstars. Warm up before you go down to the contest room. Don't expect to do it right before the test.
"Last, don't look at the superstars and feel less deserving, less qualified, that you'll never beat them, or whatever. They're every bit as human as you are. This might be their worst test. If you think like that, you'll give yourself more confidence to allow yourself to do well. After all, most of this is in our mind anyway. We're our own worst enemy. Think you're a champ, and you will be.
"I just enjoy being with these superstars every year, the only time, really, for most of them all year. They're my heroes, friends. And they make you feel so welcome; not at all a clique. No greater-than-thou mentality. Encouraging, happy, uplifting, and positive. Even joking with the Contest Committee members and last year's champs. It's just a great place to be, whether you are a competitor or a quiet, silent observer."
And for those students who dream of competing at the state or national level someday, Cortopassi offers the following advice:
"Never quit. Never give up. Don't be upset when others pass tests; rejoice with them. You will be rejoicing yourself soon or some day. Remember the golden rule: Do unto others as you want them to do unto you. If a test is too fast for you now, it will not be one day. Keep plugging away at it. A marathon is won one mile at a time.
"And set goals for yourself. Dream about those goals. Nearly everyone who competes in any sport will tell you that visualization works. See yourself finishing. See yourself graduating. See yourself passing tests. What clothes are you wearing? What's the expression on your face? What reward will you/others give you/yourself for that?
"But don't worry with reporting school about setting dates for achieving those goals. Give yourself a neighborhood" of a date, for example, "around January 2020 I will pass ____.
"Come watch us at the NCRA Annual Convention Speed Contests and Realtime Competitions in Colorado – and see yourself competing one day!"
NCRA's 2019 Convention & Expo will be one of the Association's most exciting ever as it features renowned consumer advocate and environmental activist Erin Brockovich as keynote speaker. In addition to innovative educational sessions and endless opportunities to network, you won't want to miss an Expo Hall that promises to showcase the latest in products and services for the court reporting, captioning, and legal videography professions. And don't forget to pack your best duds for the Denim & Diamonds-themed Member Recognition Gala that takes place the evening of Saturday, August 17.
Space is limited for this year's festivities, so make your plans now to attend this premier event happening in the Mile High City that offers visitors a breathtaking backdrop with a range of sights, sounds, and tastes like no other city.
Hurry! Deadlines for lodging and registration are looming. For more information about the 2019 NCRA Convention & Expo, or to register, visit NCRA.org/Convention. Special online registration pricing ends July 31, after which onsite pricing for registration will take effect.
Attendees are also encouraged to reserve hotel rooms for the Convention at the Hyatt Regency Denver at Colorado Convention Center by July 19 to secure the special NCRA rate. Staying at the host hotel not only means great amenities for registered attendees (including continental breakfast on Friday and Saturday), but it also helps NCRA keep rates for events reasonable for everyone.
For sponsorship information please contact Mary Petto, Senior Director of External Affairs, at mpetto@ncra.org.