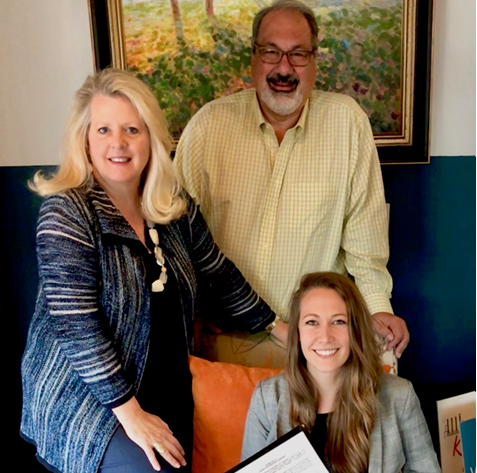 Lauren Lawrence, RPR, from Kansas City, Mo., recently started a new business, Stenovate. She told JCR Weekly more about it.
JCR | Can you give us a little information about Stenovate?
LL | Stenovate is the only organization and collaboration platform built specifically for legal transcript professionals. There are two major benefits: First is streamlined project management. We designed a tool that allows reporters, scopists, and proofreaders to work together seamlessly on a single platform. Second, we're in the process of building a freelance marketplace for finding help and picking up extra work. The marketplace will include professional profiles, ratings and reviews, and a job board so that it's easy to find good help. The idea for Stenovate has been in my mind for years, but we've only been in development since December of 2018.
JCR | What made you see a need for Stenovate?
LL | Over the last six years, as I hunted for the perfect unicorn scopist and proofreader, I started to get really frustrated with the process. It takes effort to find good help. You can spend a lot of time vetting someone, and it still may not be the right fit. Then add in all the disjointed tools we needed to collaborate: Facebook, email, Dropbox, text, PayPal, etc. Everyone has a slightly different system, so it was tough to get on the same page and be truly efficient.
Finally, when I learned about the reporter shortage, I realized how important it was that reporters maximize their time doing what they do best: reporting. I started talking to a lot of people on the phone, asking about the tools they used, what they would like to improve about their process, and what the "perfect" tool would look like. Their feedback was fantastic, and the need for a new solution was clear. I just had to figure out how to make it happen.
JCR | Tell us about the big news of a new investor.
LL | When I started looking into creating Stenovate, I had no idea the amount of capital and connections it would take to make it successful, but I was determined to help reporters. So I started self-funding the project, but I knew that wouldn't be sustainable if we wanted to make a great product. I knew the court reporting community was supportive. After all, we have more than 500 people on Stenovate's waitlist, but there comes a point when you have to go out on a limb and look to the business community to see if anyone believes in you and your idea enough to back you up financially. Karen Fenaroli, my initial investor, is a crusader for small, women-owned businesses, and she was the first one to take a chance on Stenovate and on me. We all have to start somewhere, but if we have capital and support, it allows us to be user-focused. This opens the door for other opportunities that help us improve our product faster.
JCR | What will the new investment allow you to do?
LL | It takes a lot of brains and a lot of hours to build something like Stenovate. I've recently brought in a few amazing women to help me. While I know and love everything about court reporting, I'm not a software designer, a business analyst, or a client success manager. Those are really important roles, and our new investment is allowing Stenovate to establish a solid team of smart, compassionate, and innovative leaders who aim to help our community thrive.
JCR | Are you still looking for investors?
LL | The short answer: Yes. I'd be happy to talk to anyone seriously interested, especially if they can offer industry insight in addition to capital. We're looking for strategic investors who can help guide us to do what is best for our users and the transcript community as a whole. Our industry is at an inflection point. With Stenovate, we have an opportunity to empower our users and benefit the industry at the same time.
JCR | What are next steps for Stenovate?
LL |We're launching Early Access for our beta users Aug. 6! For the next 30 days, we'll be hanging onto their every word of feedback and making continuous improvements. Then we will open up the platform to the public so that everyone can work better together. The current version of Stenovate has the project management component, but we're furiously building the freelance marketplace as we speak. We have lots of other little features up our sleeve that we can't talk about quite yet. We're working as fast as we can, and we'll keep you updated as we launch new features. If you haven't already, join the waitlist at www.stenovate.com to stay in the loop!
JCR | What is your court reporting background, and are you still working as a court reporter?
LL |I graduated from AIB College of Business in 2013 with a bachelor's degree in court reporting and moved straight to Kansas City to start freelancing. I remember getting my first reporting job from a phone interview without a résumé. They really needed the help! Since then, I have focused on building my dictionary and getting realtime ready. Providing realtime has allowed me to cover big trials, have a transcript about Trump in the Huffington Post, and even travel abroad to places like Italy and Peru. It's been a total whirlwind!
Now, I'm reporting very little due to Stenovate's major time demand, which means I'm not getting paid either! Startups are not a walk in the park or for the faint of heart, but if I can keep my team paid, I can skip vacation and live on PB&J. Have you ever tried something and then wondered how you ever lived without it? I know that's going to be Stenovate. I'm so inspired by the court reporting community's work ethic. My sole purpose right now is to save us time and headaches. I know how hard we work. I know how bad we need this. As my mother always says, "I'm here to help."