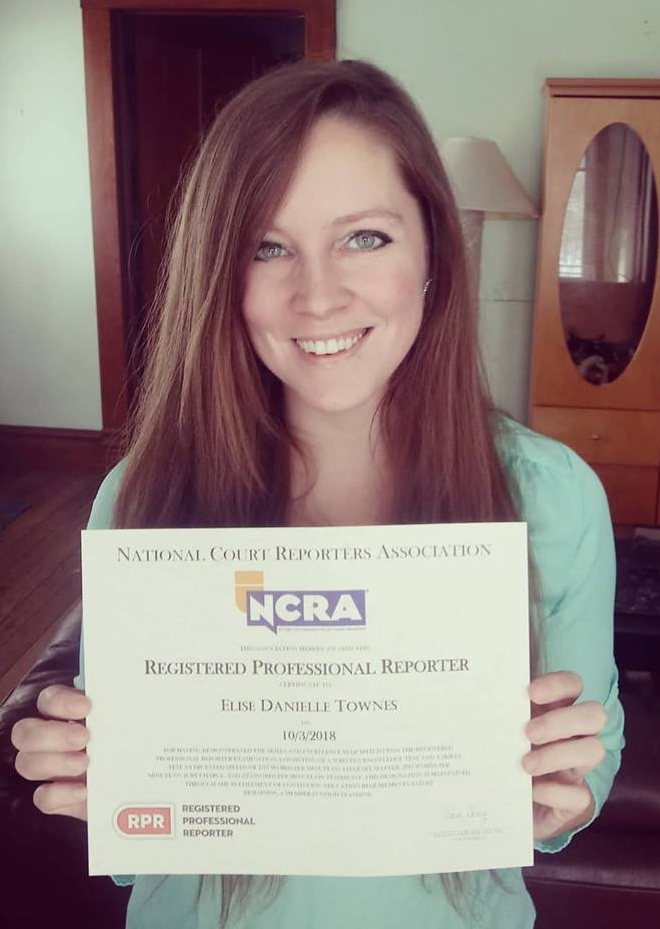 Elise Townes, RPR, a freelancer from Rockford, Mich., posted the following in the Facebook group "Encouraging Court Reporting Students."
Why do you love court reporting? Share your reasons with us at jcrfeedback@ncra.org and post with #whyilovecourtreporting.
Tonight was a pretty big night for me. I just submitted my very first transcript to the attorneys! This has all been about seven years in the making. I'm a single mother, and this whole process has not been easy!
I felt like it took me forever to get out of school. My school (The College of Court Reporting) was fantastic! I just had to work while I was in school and had two young children, so it took me a bit longer.
After that, it took me a few more years to become certified. It was tough finding time and energy to practice, especially not being in school. I finally decided to quit my work and focus solely on practicing for the last leg of the RPR, and it worked. I was finally certified in December of last year and then earned my CSR certification right after.
I was a teen mom (twice). I have had to struggle immensely for this, and it's all been to give my kids the life they deserve. They're the reason for all of it. A few months ago, I accepted a job as an official reporter in Colorado and made the huge move from Michigan.
I've only been working for a month, but it feels so amazing to be able to say I finally made it and to tell all of you that YOU CAN DO THIS. Don't give up!!! I know you're exhausted. I know you're feeling burnt out. I know it feels like it's taking forever. Persevere and power through because you've got this, and it's worth it!!