By Beth Cicero, CSR, RPR
When I heard about NCRA's A to ZTM Intro to Machine Shorthand Program, I was immediately intrigued. What a great idea! Let people actually put their hands on a machine and try it out before investing time and money in equipment and school. Their only cost will be a short investment of their time — time within which they may find the career of a lifetime!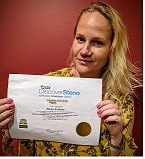 We all know the dropout rate is high in court reporting school. Historically, about 10 percent of those who enroll actually succeed. I always tell people, it's a skill you either can or cannot do. Like some people can carry a tune and others can't. But you don't know until you try.
NCRA's A to ZTM Program is the perfect way to find students most likely to succeed.
I've never taught anything before, but the handbook and support supplied by NCRA made it as easy as following a well-laid-out map. Just add your knowledge, writing skills, and enthusiasm for the profession.
I had a lot of help in putting a program together from my fellow reporters, many of whom donated old machines and who volunteered their time to assist during the sessions.
Finding a place to hold the program can be a challenge. Fortunately, I found the support I needed from Jane Sackheim, president of Diamond Reporting. She offered space in their Staten Island office right across the street from Richmond County Supreme Court, where I am an official. Lori Carannante, a freelance reporter with Diamond, stayed each night we were in session to keep the office open for us and graciously supplied our participants with refreshments and shared her experience in the freelance field with our prospective students.
I've led three A to Z programs, out of which I've only had three participants whose spark was immediately lit and who have enrolled in school. That doesn't sound like much, but given the high dropout rate, it's on point because I am sure those three students will excel and succeed. That's three more reporters and three more people who have now found their niche in life with a rewarding and exciting career.
I know there are other dedicated professionals who volunteer their time in this and many other ways. It's that kind of dedication and teamwork that promotes and protects our future.