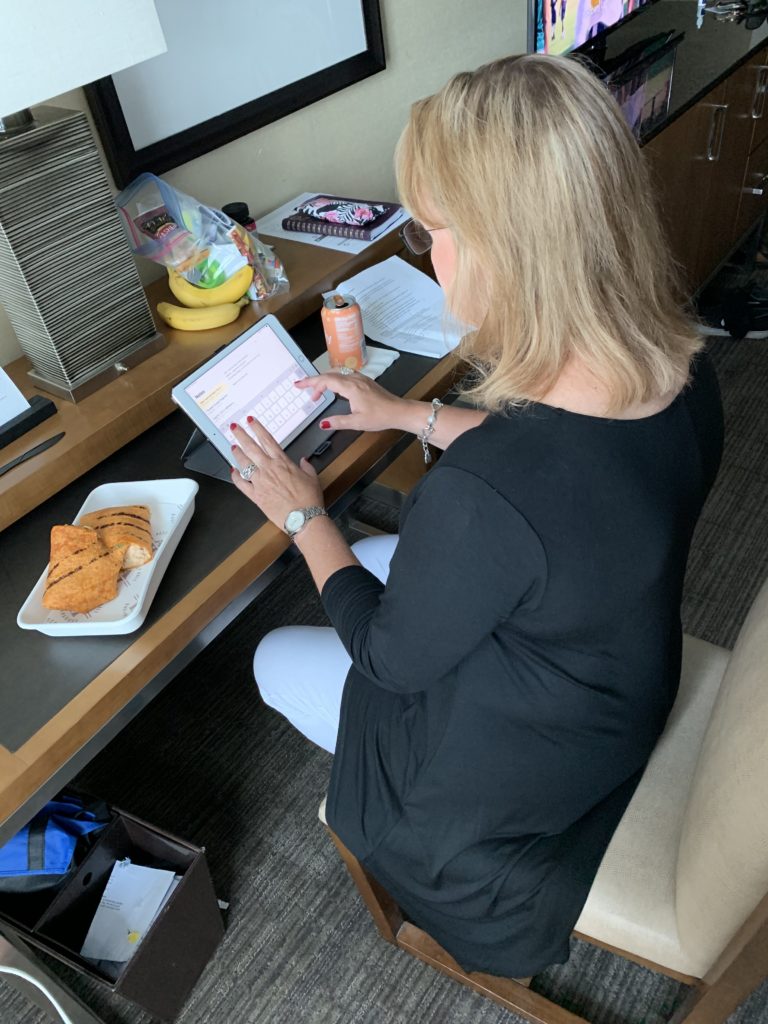 By Penny Wile, RPR, RMR, CRR

When I was asked to speak on a panel at the 2019 NCRA Conference & Expo in Denver, Colo., I was honored and immediately accepted. I never imagined I would be asked to present at a national convention. I will admit, I am a newbie at speaking to my court reporting peers. I was asked to be on a panel with three very talented professionals and speak on how we promote the profession. We had a couple of conference calls before the convention and only met one another briefly before we spoke on the panel.

Being a newbie and not knowing what to expect, before I left home to attend the conference, I typed up what I planned to speak about and arrived in Denver with my notes. My fear was how am I going to speak for a solid 10 minutes with the few notes I had compiled. It seemed like 10 minutes of content.

While in Denver my son and I spent time sightseeing in Boulder, Nederland, and Morrison. We drove up the rocks and took in the amazing views and visited some of the Colorado attractions.

Fast forward to Saturday, the day I was scheduled to present. When I returned to my room at lunchtime, I found that in my haste to keep our room tidy I had thrown away my notes. After grabbing some food to-go, I returned to my room and sat down to quickly type up what I could remember from the notes I had thrown away. I typed the notes on my iPad and ate, all the while wondering if this would be sufficient.

When I arrived at the meeting hall, I will admit I was nervous. I knew very little about my fellow panelists and didn't really know what to expect. One by one the panelists entered, and I was immediately at ease. They were friendly, knowledgeable about the topic we would be presenting on, and all-around impressive court reporting professionals.

Each of us on the panel brought something different to the table. We spoke of promoting the profession through our presentations at the middle and high school levels, community college level, job fairs, and volunteer opportunities. We discussed resources that can be used to promote our profession and how to obtain them.

In hindsight, I feel I could have done better with my presentation. When it was my turn to speak, I began with too much of my background. I kept thinking 10 minutes was a long time to speak. But before I knew it, I had run out of time. I didn't even use the notes I had retyped. I was appreciative of the questions asked by our audience because it gave me an opportunity to address the topic in more detail.

After attending the NCRA Conference & Expo, I came away empowered by all of the speakers from their topic content and the effortless way they presented.

I hope I will be invited again to be a speaker so I can use what I have learned from my first experience – be concise and informative! It was an honor to be asked by NCRA to be part of the conference agenda, and I truly appreciated the opportunity to speak and network with my peers and the NCRA staff who work so hard for us. Always remember, like our panel topic demonstrated, promote the profession!
Penny Wile, RMR, CRR, is a freelance court reporter and owner of Penny Wile Court Reporting. She resides in Norfolk, Va. She can be contacted at pawile@cox.net.
Click to find out how to apply to present at the 2020 NCRA Conference & Expo.