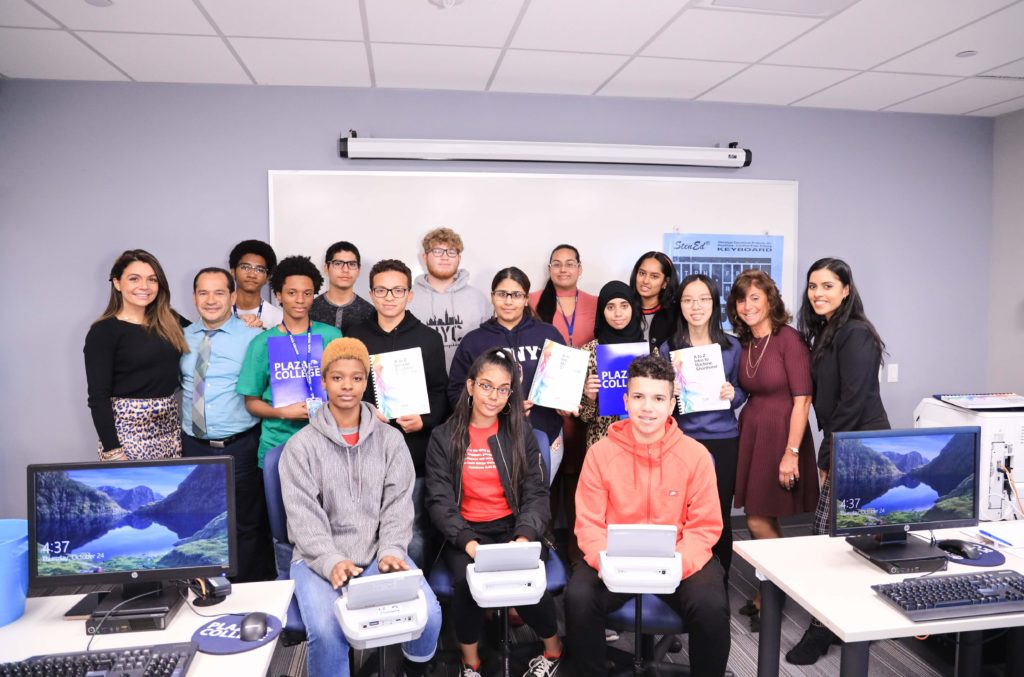 Plaza College, located in the borough of Queens, is home to the only court reporting program in New York City. With the nationwide shortage of court reporters, Plaza focuses on strongly advocating for the profession. In an effort to educate local youth on the opportunities available in stenography, the college hosted the first ever NCRA A to Z® Intro to Steno Machine Shorthand program for high school students, in which 15 students enrolled.
Karen Santucci, CRI, director of the court reporting program at Plaza College, said "When the students arrived for the first week of class, I was so impressed with their enthusiasm and furthermore with their dexterity. They were so thrilled with learning how to use the machine that they were persistent about moving through the alphabet at a quicker pace!"
The high school program was held over the course of four weeks in October 2019. During the course, the students were led through an introductory understanding of what stenographers do, how to get comfortable with the machine, and how to begin writing the alphabet and numbers, as well as some words.
The students were impressed by the benefits of a career in court reporting, especially the luxury of creating their own work schedule. Derek Ayala, a senior at Robert H. Goddard High School of Communication Arts and Technology in Ozone Park, was buzzing after completing the course. "Learning the basics of court reporting has been really interesting. Before Plaza offered NCRA A to Z to our school, I didn't know about the industry and all of the flexibility that comes with it," he said.
Plaza College will continue to introduce stenography to a younger audience to help grow the profession. Santucci is optimistic that this effort will produce a lasting outcome.
"This is a career opportunity that unfortunately so many students are unaware of," she said. "Changing that can breathe a new life into a career in court reporting."
Plaza College plans to host its next high school A to Z program during its spring 2020 term.
For more information about NCRA's A to Z® program or DiscoverSteno, visit NCRA/discoversteno.org.
Karen Santucci, CRI, is from Forest Hills, N.Y., and is the director of the court reporting program at Plaza College. She can be reached at ksantucci@plazacollege.edu.