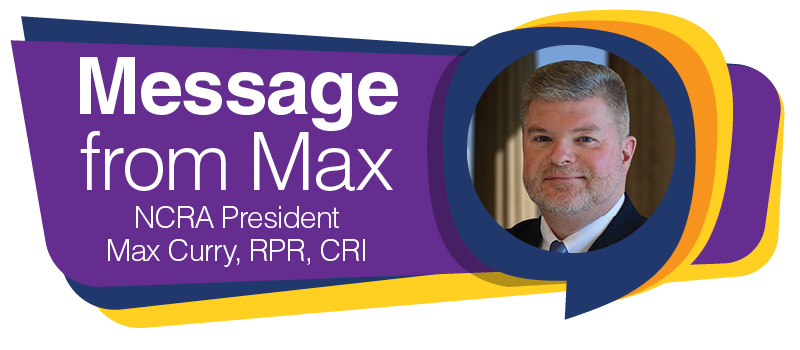 The NCRA Board of Directors, staff, and I — like many of you — are troubled by the events of the last two weeks with the changing environment caused by the coronavirus. I assure you that we as NCRA leadership and staff are diligently and actively working our way through the issues as they affect our industry, and we will communicate with membership as solutions are put in place.
The most important thing is to stay calm; listen to the information that has been shared by the CDC, WHO, and other health organizations.
NCRA Board and staff have already made a number of decisions to aid members:
UPDATE: THE WEBINAR IS FULL!
1)     NCRA Director Keith Lemons, FAPR, RPR, CRR, and Immediate Past President Sue Terry, FAPR, RPR, CRR, CRC, will be hosting a webinar on using Zoom and other online videoconference/teleconference platforms, on Thursday, March 19, at 7 p.m. (Eastern). These two tech-savvy members will share how reporters and captioners can use videoconferencing tools to assist clients, courts, and consumers in conducting depositions, hearings, and other court proceedings, as well as provide captioning or realtime via streaming technology through the Internet or through platforms such as Zoom. Many of us already know how to utilize these platforms and have been doing so for years. For those of you who haven't, we will help you get there together! The March 19 seminar regarding use of video conference platforms will be one hour in length and earn participants 0.1 CEU at no cost to NCRA members. NCRA member value is hard at work by providing empowering solutions. Non-members can pay a minimal fee of $30 for the webinar.
2) The NCRA Board and staff plans additional in-depth webinars regarding online video conference platforms in the next few weeks. These webinars will deal with the more complicated issues of videoconferencing, such as exhibit scanning and document sharing, streaming of realtime over the Internet via video conference feed, etc.
3) On Saturday, March 21, at 10 a.m. (Eastern), please join me for the NCRA Town Hall. We will be addressing how reporters, captioners, videographers, and associate members can empower and sustain themselves and their families through this pandemic, which we must face with the rest of the world. Register here.
We are going to get through this together and be stronger for having weathered the storm. Stay safe and adhere to the medical advice offered by experts. My prayers and best wishes, as well as those of the NCRA Board and staff, are with each of you in the days and weeks to come.
Max Curry, RPR, CRI
NCRA President