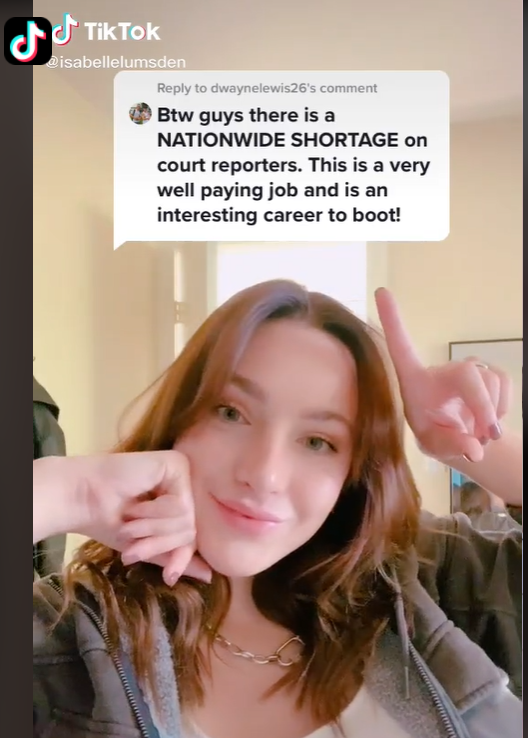 Have you visited TikTok recently? If you did, you might be surprised to see some posts about court reporting attracting hundreds of thousands and even millions of views.
Isabelle Lumsden (@isabellelumsden on TikTok) is a student in her first semester at Northern Alberta Institute of Technology in Edmonton, Alberta, Canada. She has been posting about court reporting as she has been learning, and people have been noticing.
"I have received a large response. Each of my videos gets thousands of views and likes," Lumsden said. "My current highest court reporting video is sitting at 2.9 million views, 448.1K likes, and 5,240 comments. These numbers grow exponentially every day. I currently have 14 videos up about court reporting and have gained over 30,000 followers in the last 10 days."
Lumsden was also featured in a recent Yahoo story.
"Most of my comments [to the posts] revolve around how confused people are and how they think it's like 'witchcraft,'" she said. "While most of the comments are just people being amazed and confused at it, I also get the occasional 'why don't you use a computer' or 'why don't courtrooms just use speech-to-text software;' so I try to explain why court reporters are still needed to the best of my ability. I have also had a bunch of current court reporters reach out to me, and I am super grateful for that. Making connections this early in my career is super exciting for me, and I appreciate having experienced court reporters that I can ask my questions to."
Her posts include a tour of her steno machine, a post about the need for new court reporters, and a seven-part series on stenography/court reporting.
Lumsden said that court reporting is such a unique and amazing career path that she thought it was worth sharing with the world.
"I noticed not many people talk about it on social media, as I even had very limited knowledge about it before doing research, so I wanted to change that and start a conversation," she said.
The global pandemic made her start thinking about her long-term goals. Her mother was the one to bring up court reporting.
"She had done some research and thought it would be the perfect career for my personality," Lumsden said. "When I did my own research on the profession, it was like love at first sight. I instantly had a gut feeling that this was the career path for me!"
Lumsden said that, while she is currently still learning all the different roles of court reporters, she knows she wants to work in a courtroom.
"I love traveling, so I would love to venture out of my home city and live somewhere new," she said.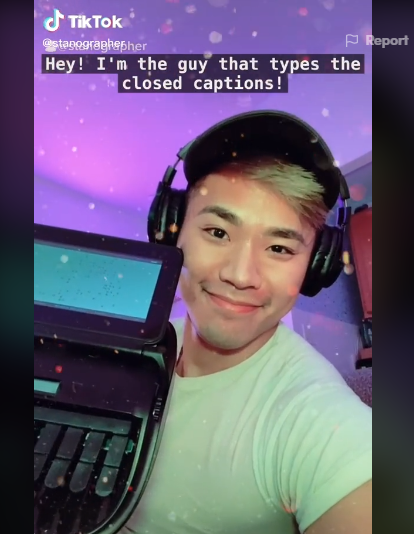 Stan Sakai, CRC, a freelancer in New York, N.Y., (@stanographer on TikTok) also has some very popular TikTok posts. One recent post has been seen by more than a million people.
"I've gotten overwhelmingly positive responses," Sakai said. "Seems everyone is genuinely interested and fascinated."
Sakai said, while there is very little steno representation on TikTok, "I guess this is something that actually legitimately interests a ton of people, especially when you cover one bite-sized topic per video."