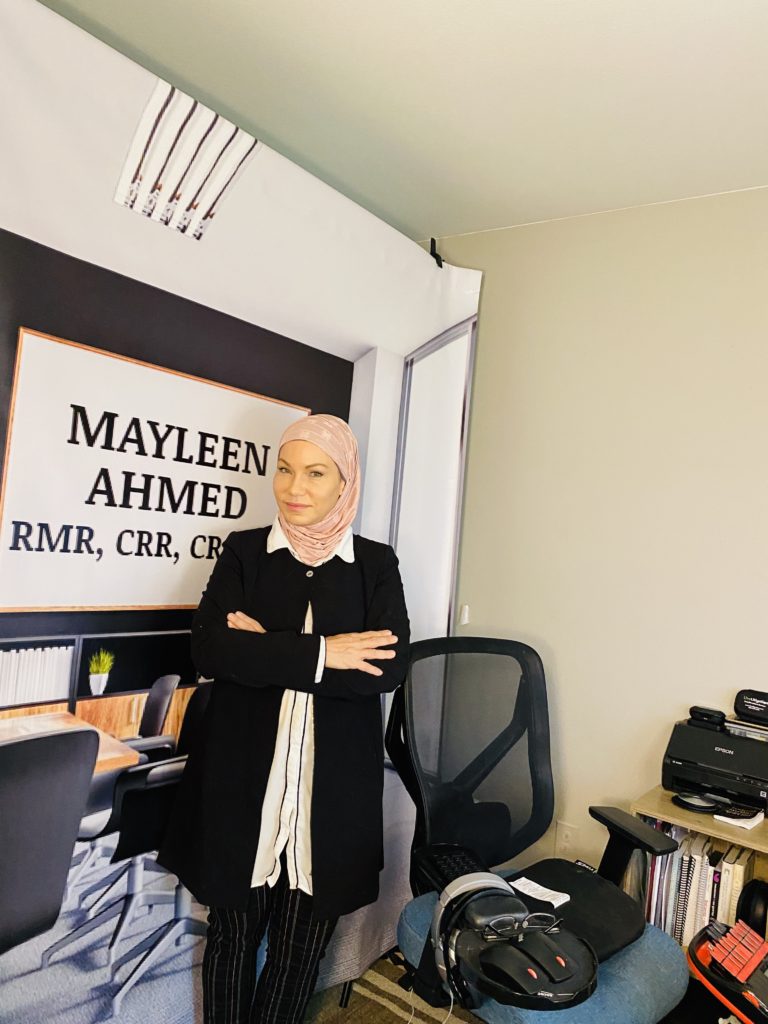 By Mayleen Ahmed
When the photos came in from Mayleen Ahmed, RMR, CRR, CRC, the person profiled for the November/December JCR, the JCR had to ask more questions about her backdrop with her name and credentials in one of the photos she submitted. We thought it was a great idea with all the remote work that is being done; all your information is right there with you in your picture if you want it to be. Here's what Ahmed told us about it.
As to your question about my background, I had a smaller background initially. When the pandemic hit, my first thought was about recreating a "business as usual" scenario to assuage any concerns of working remotely from both the agencies I cover for and their clients. I immediately purchased cables — Xfinity was not providing home service — and I wired my own home, including hiding the cables under the rugs. I tested many different remote platforms and realtime service providers and ensured I had the tools in place to provide whatever remote services were requested. I spent hours searching the right image and creating a virtual background with my name. Our world had suddenly changed. I wanted to show them what the new world would look like.
While testing all the new devices and my new virtual background, I learned it decreased bandwidth, it was not recommended for legal settings, and it ate all my body parts if I moved. I then went online and downloaded an image of a conference room that fit my image and matched my desk perfectly. Staples.com has two-hour printing services. I had a background printed and available curbside by the end of the afternoon and before my first remote assignment in the last week of March.
My first background was the perfect size, but it soon became too small as I found it limited my range of motion. Once it became apparent that remote work was our new future, I decided to upgrade my background, just as I upgraded to dedicated desktops and all the new gadgets that allow me to do my work easier and provide better services. I spent hours looking for high-quality images of conference rooms that represented my image and the type of work I covered. Once I found an adequate image, I purchased the rights to the image at high resolution. I did an online search and found a customized backdrop provider that promised to have my backdrop to me in less than a week. I ordered a full 12 x 8 backdrop that is held up with a tripod I ordered from Amazon. This new "remote" office allowed me a greater range of motion, more space, and provided a sense of "home" to the attorneys. Since my background is not virtual, I have no issues with being eaten alive digitally, loss of bandwidth, and I have a background even with the platforms that do not support a VC.
My selected "conference room" image has two whiteboards. One board has my name and credentials preprinted thereon. I use the other side of the board to place the logo and information of the agency. I printed signs of the agency with their logo and information that is attached via Velcro to the white "board" in my "conference" room. It's almost like a customized remote office. This allows me to change my office at a moment's notice for last-minute coverage. I wanted the attorneys to feel confident that I just did not wake up and turn on my computer.
While small, these details make a great impact. It separates us from the larger crowd. The agencies I work with take great pride in the quality of work they provide — and it starts with me. Videographers, attorneys, paralegals, and clients have mistaken my background for a real office. To me, it is business as usual — remotely.
Mayleen Ahmed, RMR, CRR, CRC, is a freelance court reporter based in Seattle, Wash.