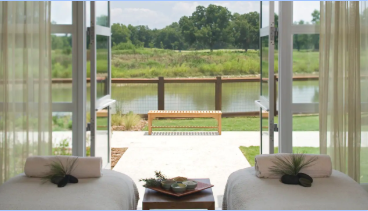 The NCRA 2020 Business Summit offers more than just networking and learning. Located on more than 400 acres along the banks of the Colorado River, the beautiful Hyatt Regency Lost Pines Resort & Spa in Austin, Texas, offers a variety of amenities and activities for attendees and their guests to enjoy during their stay.
Among the recreation amenities attendees can enjoy include: A full-service spa, salon, and fitness center, two tennis courts, an 18-hole golf course, hiking, biking and jogging paths, horseback riding, a video arcade, a water park, a meet-and-greet with the facility's mascots, and more. Plus, if attendees book at the special NCRA room rate before Jan. 8, the activity fee of $35 is waived. And don't forget, register for the event by Nov. 30 and save an additional $100.
Besides the beauty of the Austin countryside and warm temperatures typical of Texas, attendees at the 2020 NCRA Business Summit can also expect to enjoy a schedule that offers informative, inspiring, and insightful sessions led by leaders in the business industry.
Ron Comers, a former FBI agent and currently an advisor on corporate security risks through Charted Risk, LLC., will present "Protecting Your Firm from Scams & Data Breaches," and offer tips on how firms can keep their files and other information safe in today's cyber-savvy world.
Comers earned a bachelor's degree in criminology from the University of South Florida and a master's degree in business continuity, security, and risk management from Boston University. Prior to working for the FBI, Comers was a police officer with the Stratford Police Department in Connecticut. He entered duty as a special agent of the FBI in 1995 and was assigned to the Boston, Mass., division, where he worked bank fraud and drug investigations and also served as a member of the division's SWAT team.
Over the course of his career, Comers has served in a variety of divisions as an FBI agent, overseeing a number of stateside and international investigations.
In 2010, he served as an acting ALAT in Afghanistan in 2010 and as a member of the Major Crimes Task Force charged with developing the investigative capabilities of Afghan law enforcement. For his service, he received the Attorney General's Award for Excellence in Furthering the Interests of U.S. National Security.
Other speakers include Cathy O'Neal, communications director for Levitt Pavilion Arlington, who will lead a session about successful social media strategies to help build business; a financial planning session led by Chris Moyseos, a financial planner who will discuss succession and financial planning; and NCRA Interim Executive Director Dave Wenhold, CPE, who will present the findings of NCRA's 2020 Firm Owners Economic Outlook Survey.