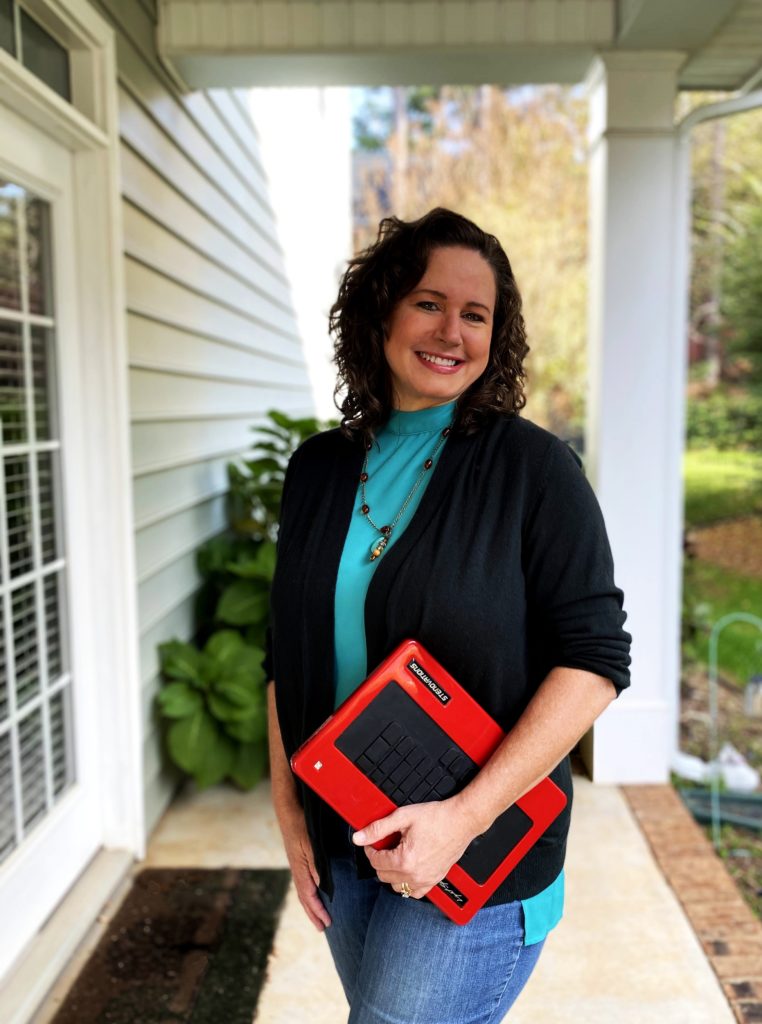 Theresa (Tari) Kramer, RMR, CRR, CPE, an official court reporter from Charlotte, N.C., is founder and owner of Legal Grins, a mom-and-pop online shop that sells entertaining legal retail products like Certified Stenographic Reporter lapel pins. Recently, she donated a percentage from those sales to NCRF in support of the NCRA A to Z® Intro to Steno Machine Shorthand program. The JCR Weekly reached out to Kramer to learn more about what motivated her to start her shop and why giving back to the court reporting and captioning professions is so important to her.
Legal Grins was formed in the summer of 2017, and it was born out of a desire to provide entertaining and engaging merchandise for the legal community – specifically court reporters. It was obvious that there was a scarcity of quality, fun-loving legal retail products available. Many of us wanted to wear and display our love for this legal career that has taken such good care of us. So with a combination of rudimentary graphic design knowledge and a quirky sense of humor, Legal Grins was created. The name came from a combination of things: the line of work – legal – and happiness – grins.
In the fall of 2020, I created the Certified Stenographic Reporter lapel pin in an attempt to promote steno as the gold standard in our industry. It is unique to stenographic reporters who are certified at the local, state, national, and international levels. The pin, when worn to our assignments, provides an excellent opportunity to speak with the client about the advantages of choosing a stenographic reporter for their proceedings.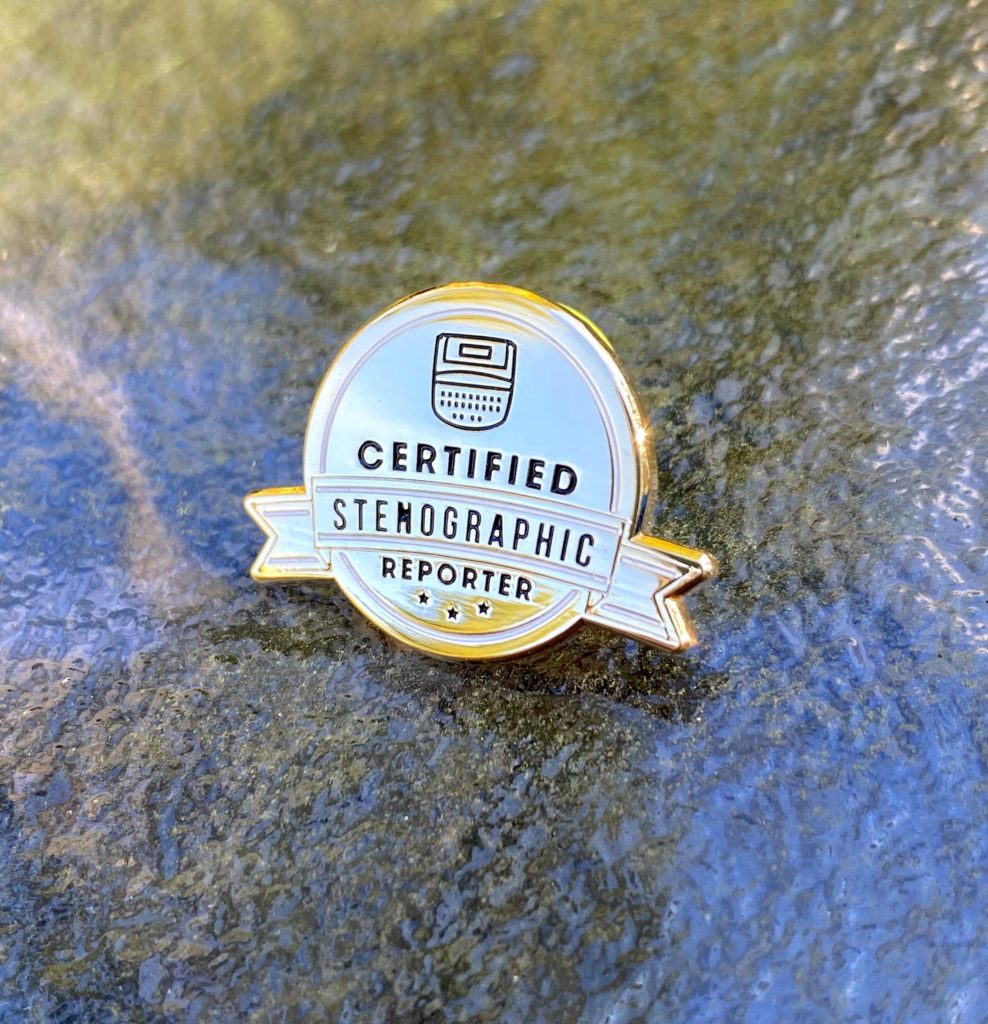 Legal Grins has a vast array of products and designs — decals, mugs, shirts, face masks, drinkware, printable downloads, etc. — and can be found in Etsy and at www.legalgrins.com.
Many of the designs in the shops are ideas from stenographers and steno students who had a vision, and we worked on it together. I contract with a fellow stenographer who has graphic design training and education to make more complex designs. Ninety-nine percent of the designs, though, came from late-night creative streaks over the past three-plus years. Night owls can be productive!
The catalyst for wanting to give back to the profession has to do with the way I began in this career. When I started school in the late 1980s, it literally rescued me from the floundering lifestyle I was in. I was 21, had dropped out of traditional college, and was living at home with a dead-end job. My mom came into my room and plopped the Yellow Pages book on my bed and said, "Either go back to college or get a job and move out." Tough love works, and this time it worked like a charm. I found a court reporting school in the Yellow Pages and went for a visit. I was hooked. Upon graduation, becoming a court reporter provided the kind of financial freedoms I never knew existed. I had the ability to buy a modest home and pay my parents back for their financial assistance. I also eventually paid for and finished that bachelor's degree.
Over the past 29 years, I've talked ad nauseam with potential students, taught twice, and recruited two new students to my alma mater (Brown College in Atlanta, Ga.). One of them was my best friend I lived with for five years, and she saw firsthand what a great job I had. She finished her bachelor's and then went right into Brown for court reporting school.
Aside from donating $1 from the sale of each pin, Legal Grins provides all students with a 10 percent discount (just email me). This donation to the NCRA A to Z program is a no-brainer as far as giving back. And other stenographers are paying it forward as well because it is $1 from their purchase that is going to the program. It's just natural to want to help the next soon-to-be reporter be introduced to this fabulous career.
My goal is to have 1,000 of these pins in the hands of fellow stenographers who will feel the same confidence and pride in their profession as I do. In turn, $1,000 will be donated to the NCRA A to Z program. So far $100 has been donated with another $100 soon on the way to being donated.
Paying it forward is a beautiful concept. We all have the ability to do this. Find your opportunity, pay it forward, and don't look back.
Tari Kramer, RDR, CRR can be reached at LegalGrins@gmail.com.
The shops are www.legalgrins.com and https://www.etsy.com/shop/LegalGrins