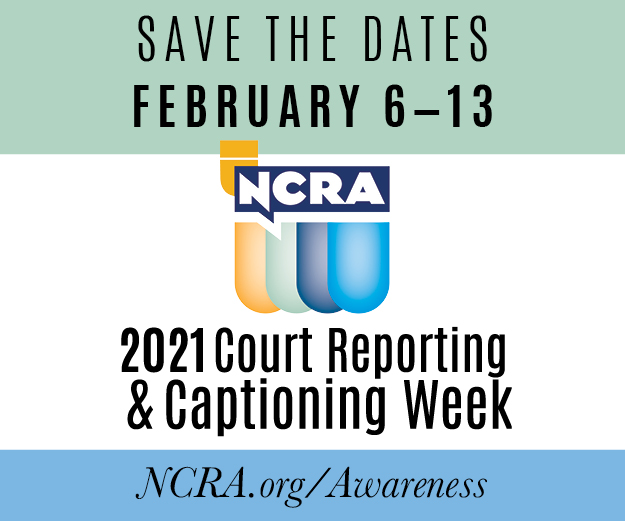 Schools are gearing up to celebrate NCRA's 2021 Court Reporting & Captioning Week Feb. 6–13 with the theme "All you need is love and steno." NCRA encourages all schools and students to participate in the week as a way to share what they love about the profession. Events held this week promote the profession and showcase the career opportunities in the court reporting and captioning fields. Up-to-Speed reports on how schools are celebrating this year.
Be sure to check out NCRA's Court Reporting & Captioning Week resources page.
MacCormac College, in Chicago, Ill., will be hosting an online event in which court reporters will sit on a panel to speak with students about their professional lives and take questions from students. Panelists include Jessica Shines; Brad Benjamin, RPR; Sheri L. Arendt; Nick DiGiovanni; Allison Sedakis; Hailey Treasure; Donna Urlaub, RMR, CRR; and Jeanine Lamantia Potter.
Marc Greenberg, CRI, founder of SimplySteno, an online court reporting program based in Tigard, Ore., will be celebrating Court Reporting & Captioning Week by allowing unlimited access to his court reporting documentary For the Record. Find it on StenoTube.
Clark State College, in Springfield, Ohio, and Stark State College, in North Canton, Ohio, will be hosting a virtual information session for their joint court reporting and captioning program on Feb. 10 at 6:30 p.m. Eastern.
In Auburn, Wash., Green River College will be holding a variety of events throughout the week. Joan Rikansrud, CRI, full-time faculty and advisor for the program, along with the Court Reporting Student Association, will be hosting multiple meet-and-greet sessions with firm owners, official and freelance reporters, and CART providers and captioners. The list of meet-and-greet session participants include: B&A Litigation with Sarah Fitzgibbon; Central Court Reporting & Video with Phyllis Craver Lykken; Seattle Deposition with Michael Nelson, firm owner, Melonie Rainey, RPR, and Doug Armstrong, RPR; official reporters Jennifer Pollino, RPR, and Jamie Booker, RPR from Washington State; official reporter Nicole Bulldis, RPR from Arizona; and Vicki Sproat, CART provider.
These sessions will be open to current students in the program and interested persons in the profession to learn more about the field of reporting from professionals currently working in the industry. They will also have a peer-instructed Case CATalyst tips and tricks workshop for students who have completed their CAT classes and/or students wanting to learn a few tips from the upper speed students, conducted by Sierra Zanghi, a student currently in exit speeds.
All students in the program are encouraged to post the "Get Involved" logo or "I Love Steno" logo in place of their profile pictures on Facebook, Instagram, and/or other social media sites.
After Court Reporting & Captioning Week, the college will continue to bring awareness to the profession and reach out to the local colleges and high schools to present the captioning skills of their advanced speed students writing realtime for graduation commencement speeches, as well as providing informational marketing sessions to various high schools across the state.

No matter how you celebrate 2021 Court Reporting & Captioning Week, be sure to share your stories and photos with NCRA's Communications Team at pr@ncra.org. Also, remember to use the hashtag #CRCW21 when you post on social media.
And don't forget, be sure to check out NCRA's resources for 2021 Court Reporting & Captioning Week for the most up-to-date materials designed to help you celebrate the week and beyond.