Eight members of the Washington court reporting community performed a reading of Governor Jay Inslee's proclamation declaring the week of Feb. 5-12 "Court Reporting & Captioning Week" in the Evergreen State.

Readers included Doug Armstrong, RPR; Sierra Zanghi, RSR; Patsy Jacoy, RPR, CRR; Sarah Webb, RSR; Nancy Kottenstette, RPR; James Mitchell, a Green River College court reporting student; Nicole Bulldis, RPR; and Ron Cook, FAPR, RDR, CRR, CRC.
Keep those proclamations coming
The list of official proclamations recognizing NCRA's 2022 Court Reporting & Captioning Week that runs Feb. 5 through Feb. 12 continues to grow on a daily basis.
At the national level, U.S. Rep. Rodney Davis of Illinois recognized the week with the submission of an official proclamation that was recorded in the Congressional Record on Feb. 8 and to date, the following states also secured official proclamations and will be entered into a drawing to win a free registration to the 2022 NCRA Conference & Expo happening July 21 to 24 in Orlando, Fla. Additional states will be entered as more proclamations are received by NCRA. The winner will be announced in the Feb. 16 issue of the JCR Weekly.
State proclamations:
Colorado
Florida
Illinois
Indiana
Kansas
Utah
Vermont
Washington
Wisconsin
Local proclamations: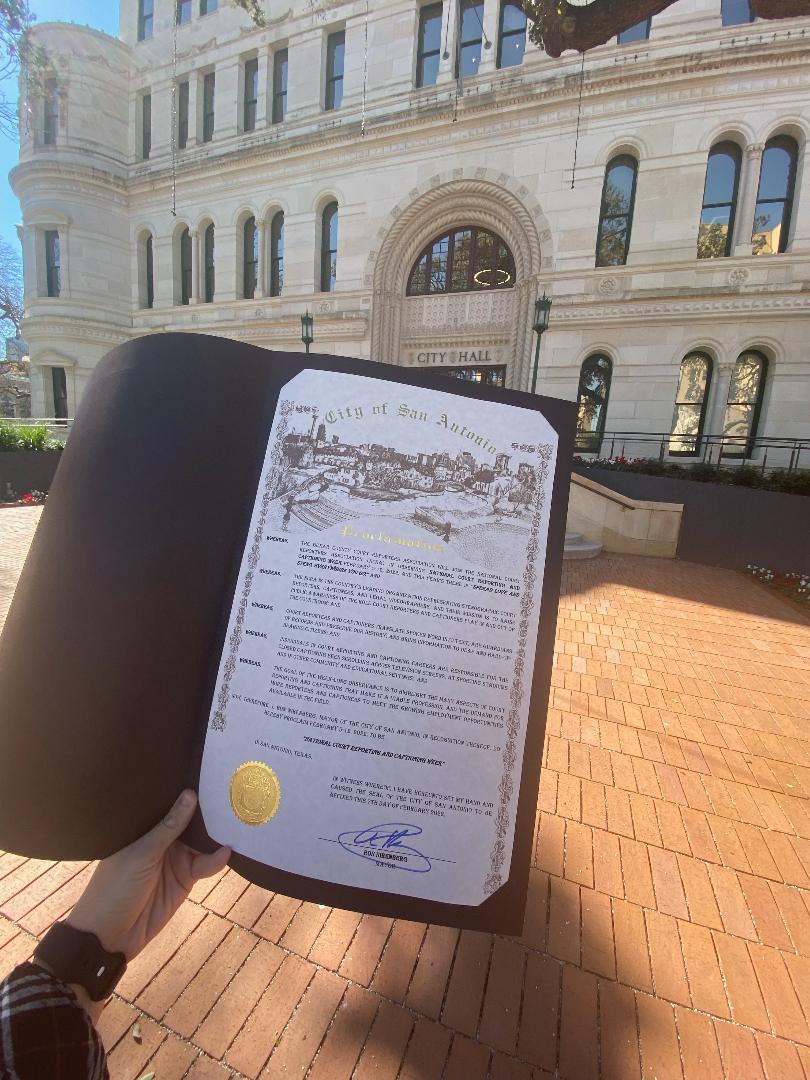 NCRA's 10th annual Court Reporting & Captioning Week is a weeklong event highlighting the many aspects of court reporting and captioning that make it a viable profession, including good salaries, flexibility, interesting venues, and the increasing demand for more reporters and captioners to meet the growing number of employment opportunities available in the field. To learn more, visit the CRCW2022 page.
---