On Thursday, July 21, the NCRA Annual Business Meeting will be livestreamed at no cost to members through the NCRA Learning Center from 8:30-11 a.m. Eastern. Members must register to attend the livestreamed meeting on the NCRA Learning Center by 6:30 a.m. Eastern on July 21.
If you miss the Business Meeting, you will be able to view the stream later in the NCRA Learning Center. A transcript of the meeting will also be posted on the NCRA website following the meeting.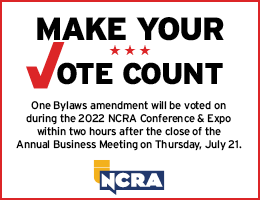 Eligible voting NCRA members will have the ability to vote online for the proposed Bylaws amendment. The online vote will start within two hours of the end of the Annual Business Meeting and will be open for 24 hours. When voting begins, an email will be sent to all eligible voting members for whom NCRA has a valid email address. Members will be sent a link to a secure voting website. The email will give detailed instructions on how to log in to the system to cast a vote. Members will be able to vote on their phones, tablets, or computers.
At the secure website you will be asked to enter your NCRA ID number followed by your NCRA password. Please note that these are the same login credentials you would use to access the NCRA website to view your CEUs, purchase items from the store, and so on.
If you have forgotten your password, click here, then enter your NCRA ID number and your login credentials will be sent to the email address we have on record.
Once you have entered your login information, the system will verify that you are an active NCRA member and will then display the election ballot.