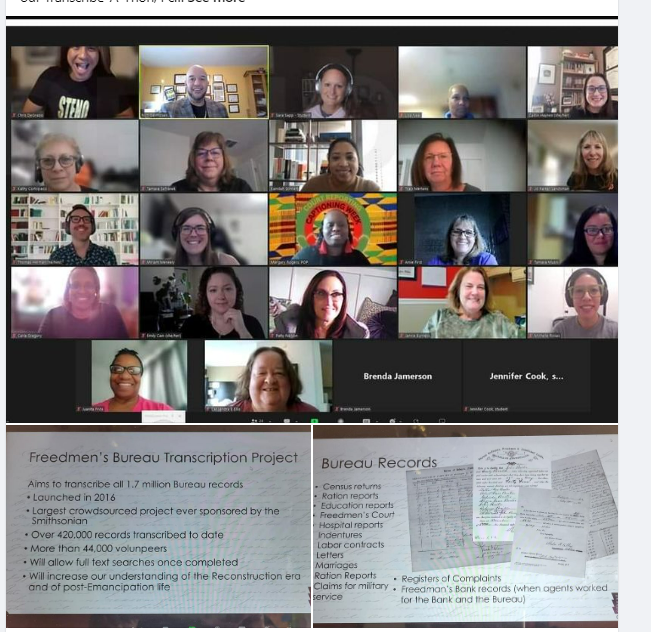 A screenshot from the 2023 Freedmen's Bureau Transcribe-a-Thon during #CRCW2023

Last year the Smithsonian Transcription Center and staff from the National Museum of African American History & Culture in Washington, D.C., hosted a virtual Transcribe-a-Thon in conjunction with the National Court Reporters Foundation (NCRF) where National Court Reporters Association (NCRA) members volunteered for the ongoing project to transcribe more original documents from the post-Civil War era relating to the Freedmen's Bureau.
Per the National Archives, the Freedmen's Bureau was signed into law by President Abraham Lincoln in March 1865. Established to ensure the transition of mainly formerly enslaved people in the post-Civil War United States, it was dissolved by Congress in 1872, leaving more than 1.5 million documents from the seven years it existed. Transcribing these documents is the largest crowdsourcing project ever undertaken at the Smithsonian.
The inaugural effort to transcribe the millions of documents was headed up by NCRA Membership Committee Chair and NCRF Angel Margary F. Rogers, RPR, CRI, an official court reporter, captioner, and CART provider from Washington, D.C., and NCRA member Juanita Price, RPR, an official and CART captioner from Gainesville, Va., through "Let's POP (Promote Our Profession) Thru Service" as part of NCRA's Court Reporting & Captioning Week for two consecutive years now.
The mission of transcribing these sacred documents resonated strongly throughout the court reporting and captioning community after the initial event that was held at the 2022 NCRA Conference & Expo in Orlando, Fla., where dozens of members volunteered under the leadership of Rogers and Price yet again.
"These letters are basically saying 'I want to find my mother. She was sold on this trade, or I was wronged here, or this is my land that I was sold to …'" Rogers said in an interview with WFTV9 that covered the Orlando Transcribe-a-Thon. "These are things that are not in the history books."
To mark the second year of the ongoing coordination between NCRA and the National Museum of African American History & Culture, a third Transcribe-a-Thon event was held during the 2023 Court Reporting & Captioning Week this month and drew more than two dozen participants from around the country. Once completed, the project will allow full text searches of the original records, providing online access to family historians, genealogists, students, and scholars around the world. Transcribing these original documents will increase our understanding of the post-Civil War era and our knowledge of post-Emancipation family life.
Per NCRF, discussions are underway with both the Museum and the Smithsonian for additional collaboration including a potential in person oral-history event in Washington, D.C. For information about how members can register to transcribe Freedmen's Bureau documents on their own, click here. Alternatively, members can contact Margary F. Rogers at mfrogers1@gmail.com.