NCRA's second technology conference offered ample chances for attendees to network and learn more about the profession and the continuing influx of technology in the field.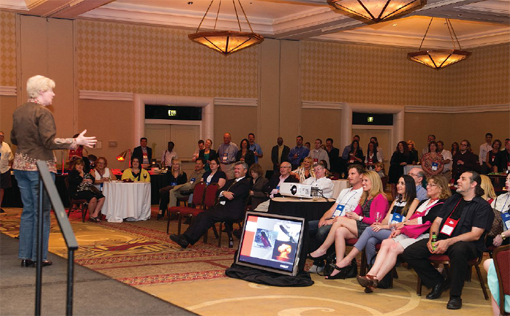 Providing ample opportunities for attendees to share information, exchange ideas, and expand their professional networks , TechCon 2013 attracted hundreds of legal professionals from different corners of the industry. The event, held April 19-21, combined the best of NCRA's technology workshops with unique approaches to conference learning, tailored specifically for court reporters, legal videographers, and trial presenters.
In her welcome letter, NCRA's president Tami Smith Keenan, RPR, CPE, encouraged attendees to not only enjoy the opportunities to network with their peers but to be excited to learn from a dynamic group of expert speakers.
"Get ready to be inspired to envision your future, discover new trends and technology, and advance your skills," said Smith Keenan.
The program included nearly 30 legal tech labs over the course of the event, and the topics ranged from emerging trends and gadgets, taking your profession mobile, and international depositions, to focus groups and panel discussions that covered various aspects of legal technology.
SHIFTING LEGAL MARKETPLACE
One of the focus groups discussed selling and delivering tech-based services to attorneys. Panelists Mark E. Lassiter, J.D.; Geoffrey Thomas, J.D.; and Steve Crandall, J.D., CLVS; with moderator Christina Lewellen, MBA, NCRA senior director of marketing and communications, led the conversation on the ever-changing legal industry, including the changes in structural make-up of several law firms and how to communicate the value of services to clients.
Lassiter explained that in the current marketplace lawyers are struggling to find work, which is causing many law firm partners to look into restructuring their organizations and how they conduct business. Clients are pressuring attorneys to abandon the long-standing hourly approach to legal services in favor of flat-fee project management, he said, adding that this approach would provide clients with clearer expectations for what pursuing a lawsuit or defending a lawsuit might cost.
He suggested that court reporters and court reporting firms might be asked to consider restructuring their fee arrangement as well, in order to better align with and compete in this shifting environment. Some attendees in the room mentioned that some law firm clients have asked for quotes based on the number of depositions rather than the traditional per-page structure. Lassiter confirmed that this request is likely to increase in frequency for court reporters and court reporting firms. "Everybody, including the lawyers, has to give more and better service at a lower cost," he said.
Thomas and Crandall weighed in on the importance of court reporters making the extra effort to sell the value of their service in order to ensure business. Crandall suggested offering transcript-synchronized video and maintaining active connections on social media outlets, as well as attaining referrals, as possible ways to increase business. "Explain the other options that are available and be sure to follow up, ask how you did, and encourage feedback from your clients," he advised.
In addition, Lassiter expressed the importance of leveraging time spent in front of a captive audience. For example, rather than trying to set up a separate appointment in a packed schedule, catching a lawyer during the cleanup of a deposition may be the perfect time to express the value you bring to the table and how it plays an integral role in today's market. "Know your market, know your customer," he said.
TECHNOLOGY TRENDS
Another highlight of the conference included a cross-functional panel discussion about what emerging trends mean for the future of the legal technology industry, led by NCRA Executive Director and CEO Jim Cudahy. Referencing more than 6,300 survey responses, the panelists Brian Clune, CLVS, Tim Piganelli, NCRA Trial Presentation Professional, and Robin Nodland, RDR, CRR, discussed what the data indicates about court reporters, legal videographers, and trial presenters.
Other survey results reviewed in significant detail during the session included the popularity of Windows in the legal industry and constructive uses for social media. The importance of how social media is being utilized by the profession was especially brought to light by the fact that more than 40 percent of those surveyed said they access Facebook on a daily basis.
"You have to be the master of your social media," said Clune. "Know what you are putting up."
According to several of the speakers over the course of this year's TechCon event, cloud-based computing, syncing programs, and Web security are crucial to the mobile court reporter, and many noted that as the profession transitions, it is important to keep an eye on these technologies and the changes that are still to come.
Daniel Bistany of Breeze IT, Inc., reminded attendees of the importance of securing your network and devices especially while on-the-go. After demonstrating a Google search of the word "password," one search result displayed a list of more than 2,150,000 common passwords. This reinforced the need for careful selection of passwords, being sure to use a combination of upper and lowercase letters, numbers, and symbols, while avoiding common selections. Bistany also suggested that wireless Internet passwords be changed on a quarterly basis.
CERTIFIED LEGAL VIDEO SPECIALIST
CLVS Council members offered several hands-on sessions that provided small group instruction and gave attendees the opportunity to get up close and personal with common video deposition equipment. Session attendees also had the chance to ask questions about video depositions and CLVS Production Exam preparation. Gilley Delorimier, CLVS, presented the basics of legal videography. From basic professionalism to set-up and test runs, Delorimier made sure to walk attendees through a typical day on the job. He reminded the audience to "earn the business by consistently doing everything right."
INNOVATIVE LEARNING OPPORTUNITIES
The Vendor Speed Dating and the Ignite session and reception were other highlights at this year's TechCon. Vendors were each given five minutes during the speed dating session to share their company's latest products and why they matter to the court reporting business. (For more information, be sure to read the full recap on this year's TechCon vendors on the NCRA website at www.ncra.org/tcvendors.)
The Ignite session and reception, where learning is merged with entertainment, was back by popular demand after its debut at last year's TechCon event. Ignite engaged the audience with six, fast-paced, fun, and thought-provoking presentations that engaged and entertained the audience. Visit NCRA's YouTube Channel to see the footage of this year's presenters, or visit NCRA.org/ignite. Check NCRA.org for updates about the event.