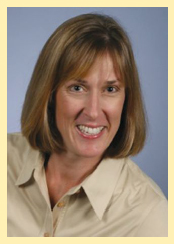 Name: Lisa Schwarze, RPR
Specialty: Owner of Sworn Testimony, PLLC, and Game Day Captions
Resides in: Lexington, Ky.
NCRA member since: 2005
Graduated from: Madison Business College in Madison, Wis.
Theory: StenEd
I have kayaked in the Atlantic Ocean.
I have a Russian tortoise as a pet.
I have milked a cow.
I was kicked out of typing class in high school because I typed too fast.
I watch National Lampoon's Christmas Vacation every year on Thanksgiving Day.
I am a Cheesehead. Go Packers!
I have two first-place medals as a bicyclist in racing competitions.
I have crossed the Mackinac Bridge, the third longest suspension bridge in the world.
I have backpacked through Belgium and the Netherlands.
As a child, I took piano lessons for years but couldn't play chopsticks today.
Schwarze's favorite briefs
My favorite briefs are contractions — AO*EU-L (I'll), AOEU-L (I will); AO*U-L (you'll), AOU-L (you will); AO*EUPL (I'm), AOEUPL (I am). You get the picture.
I am also crazy about the wide DZ key, eliminating lots of second strokes for a plural ending as well as an -ed ending. For in-stadium captioning, I like *UBL for "University of Kentucky."
Q&A
Why did you decide to become a court reporter?
During my first week in high school typing class, I was kicked out for typing too fast. My instructor asked if I would help her with "extra" activities in the classroom and opt out of testing in fairness to the others. Oh, and would you join the Future Business Leaders of America team to compete in typing competitions? It so happened that I was also taking a Gregg shorthand class. So I jumped on a bus with the other FBLA students and traveled to Green Bay for a competition in both written shorthand and typing. I had a first place medal in both by the end of the day, and it was effortless.
Honestly, the hard "work" was far beforehand and did not make me a happy youngster. Beginning at the age of 8, I took piano lessons at my mom's insistence. Without hesitation, I can tell you piano lessons were every Saturday at noon — at the same time as kickball with the neighborhood kids. Needless to say, I was reluctant to go.
My Diamante is my piano now, nothing more and nothing less. Mom gets the credit for my piano skills. One of the FBLA leaders pointed out to me court reporting as being a profession that would combine both these skills. I enjoyed both, and so I pursued court reporting.
Do you have a favorite gadget? If so, what it is, and why do you like it?
I love technology. My favorite gadget, which has come in extremely handy, is an iPhone app, TurboScan. This app allows you to scan in a document by taking a picture of it, e.g., original exhibits the attorney wants to retain, and sends a PDF of the document to your email. Handy, handy, handy.
What are you most proud of in your career? Can you tell us what that experience was like?
I am most proud of being a CART provider and developing a remote CART program. CART squeezes my heart bigtime. Four years ago I got a call from the University of Kentucky to provide CART for a student coming on board as a freshman. I jumped at the opportunity, although I had lots of fears, including where to park on campus. In a sea of undergraduate students, I found the student I was captioning for and captioned a class in an auditorium-seated room with cables from my steno machine to my computer to, ultimately, Alex's computer. At the end of class, Alex came to me and said, "Thank you so much. I had no idea how much I wasn't hearing. This helps me so much."
Realizing that a freshman in college does not need me plugging cables into his computer every day, I spent endless hours with an IT professional to develop a remote CART program. Within a month, Alex was without cables, although I was still in the classroom. By the end of three months, there was no captioner in the room and we were providing CART with no cables.
Our remote captioning program today is seamless and amazing. I have captioned conferences taking place in Puerto Rico from my home in Lexington. In this instance, my audio feed included the "client" showing others at the conference how he could "hear." When he cried, so did I. Last semester we had eight students receiving captions from captioners all across the United States. The experience cannot be put in words. CART squeezes your heart, period.