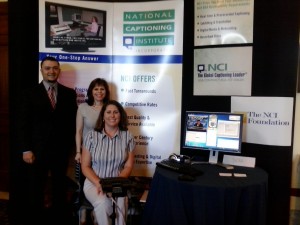 The Friends of the Congressional Hearing Health Caucus hosted a briefing luncheon and hearing screenings on May 22. The caucus is co-chaired by Reps. Tom Latham of Iowa, and Carolyn McCarthy of New York, and NCRA is one of dozens of affiliated Friends of the caucus. Brandon Schall, NCRA's government relations specialist, was one of approximately 30 hearing health professionals and government representatives in attendance. "NCRA is pleased to help sponsor the Hearing Health Caucus, and we look forward to continue being an active member of the group by bringing awareness on all hearing health issues," said Schall.  The American Cochlear Implant Alliance, Starkey, and Siemens had exhibits on types of hearing aids, as well as a display of historical hearing devices from the Alexander Graham Bell Association for the Deaf and Hard of Hearing, and the National Captioning Institute provided a demonstration of live captioning. Christine Slezosky, RPR, CBC, CCP, of Annapolis, Md., was the CART provider for the keynote address.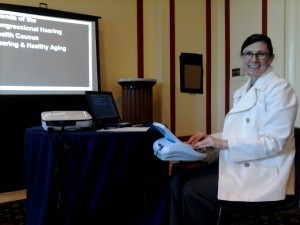 Frank R. Lin, M.D., Ph.D., gave the keynote address, Hearing loss in older adults: A public health perspective. Lin began his talk by explaining that age-related hearing loss, or ARHL, is a normal process – in fact, two-thirds of people 70 and older have a meaningful hearing impairment – but this hearing loss can lead to more than just a decline in quality of life. "If you think about hearing loss in the context of healthy aging," Lin said, "it becomes really important."
Lin explained that when the cochlea in the ear begins sending fuzzy sound signals to the brain, the brain then needs to devote more resources to decoding the information, resources that could be used toward memory or thought. This can then lead to cognitive decline, which could imply a higher risk for dementia. Cognitive decline can also be linked to physical disability, like prevalence for falls, or social isolation.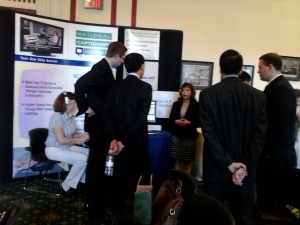 A randomized clinical trial on the link between hearing loss and cognitive decline/dementia is being planned with the National Institute of Health, but it will take several years for results. In the meantime, Lin recommended four ways to improve the situation: raise awareness, change the regulatory climate, provide easier access to services, and increase funding. The Center for Disease Control does not yet provide information for ARHL on its website. The U.S. Food and Drug Administration set its regulations for hearing health care in 1977, and the 1965 Medicare Act precludes therapeutic audiology services. At this time, getting treated for mild hearing loss can involve six months of seeing specialists and cost an average of $5,000, which is a bundled price for a device, therapy, and counseling. However, technology has changed a lot in the past few decades, and we now have the potential to provide "over-the-counter" type hearing aids that incorporate Bluetooth technology and would cost only about $100-200. Lin proposed that community health care workers could do screenings in the field and provide these types of devices to counteract mild hearing loss, leaving the more severe cases for audiologists. Finally, the discrepancy in Congressional funding between hearing and vision research is $415 million vs. $693 million, respectively.
Lin concluded his talk by comparing the current situation with ARHL and the situation with hypertension in the 1990s. Like ARHL, hypertension was viewed as a normal consequence of aging, and the fact that hypertension led to an increased risk of heart attack and stroke was accepted. Now, however, when patients are diagnosed with hypertension, they have a medical intervention with medication and lifestyle changes. Lin suggested that the same could be done for ARHL.
Rep. McCarthy, who wears a hearing aid herself, echoed many of Lin's statements. "It's not right that people who don't have the money can't get hearing aids," she said. "It's important that we get the message out … [hearing aids] can make such a difference in someone's life."
For more information, click here.
---