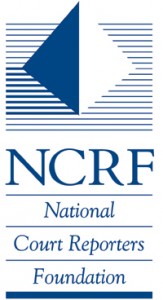 Nominations are now being accepted by the National Court Reporters Foundation for the Frank Sarli Memorial Scholarship and the New Professional Reporter Grant. The deadline for both the scholarship and grant is March 27.
The Frank Sarli Memorial Scholarship of $2,000 has benefited court reporting students nearing graduation for nearly two decades. The New Professional Reporter Grant of $2,000 benefits a qualified new working reporter who has graduated from an NCRA-certified program within the past year. Both awards are based on nominations and recipients must meet a number of criteria.
NCRF's Frank Sarli Memorial Scholarship honors the late Frank Sarli, a court reporter who was committed to supporting students at the highest level of their learning curve. Sarli, who was studying to become a professional pianist, turned to a court reporting career when he could no longer afford the tuition to music school. During his career, he opened Accurate Court Reporters in Orlando, Fla., Orange County's first independent court reporting firm, and was a founding member of the Florida Shorthand Reporters Association. Sarli also served in numerous roles at the national level, including as a director for NCRA. He was also the first Floridian to earn NCRA's esteemed Distinguished Service Award.
Both the scholarship and the grant are supported by donations to the NCRF Angels Drive and other fundraising events. Recipients will be recognized at the 2015 NCRA Convention & Expo., being held in New York City, July 30 – Aug. 2.
To learn more about the Frank Sarli Memorial Scholarship or the New Professional Reporter Grant, visit NCRA.org/Foundation.