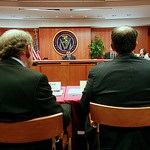 NCRA has been named to join 23 other parties representing a number of companies, nonprofit organizations, and individual consumers on the Video Programming Subcommittee under the auspices of the newly created Federal Communications Commission's Disability Advisory Committee.
The DAC was established by the FCC in December 2014 to provide advice and recommendations to the Commission on a wide array of disability issues within its jurisdiction. The DAC is slated to remain active for two years, with meetings of the full committee and four subcommittees to begin next week.
According to the FCC, the DAC will provide a means for stakeholders with interests in accessibility issues to exchange ideas, facilitate the participation of consumers with disabilities in proceedings before the Commission, and assist the Commission in educating the greater disability community and ADA-covered entities on disability-related matters. The Committee is expected to keep the Commission apprised of current and evolving communications issues for persons with disabilities. Other subcommittees include Communications, Emergency Communications, and Relay/Equipment Distribution.
Adam Finkel, NCRA's Director of Government Relations, who will represent the Association, said the Video Programming Subcommittee will address televised emergency information, closed captioning, video description, and equipment designed to receive, play back, or record video programming.
"NCRA's involvement in this subcommittee will guarantee that NCRA's members' collective voices will be heard when the FCC is considering proposals regarding captioning," he said.
"As television continues to evolve away from traditional mediums to different online services like Netflix, Amazon, and Hulu, NCRA will work to ensure that these services will be captioned, and if the program is distributed live, captioning will be done by a qualified realtime captioner."
In addition to three consumer members and NCRA, the following groups and companies will serve on the subcommittee: American Council of the Blind; American Foundation for the Blind; Audio Description Associates; Caption First, Inc.; Comcast Cable; Communication Service for the Deaf; Consumer Electronics Association; Deaf Seniors of America; Digital Media Association; Freedom Scientific; Gallaudet Rehabilitation Research Center; Hearing Loss Association of America; National Association of Broadcasters; National Association of the Deaf; National Cable & Telecommunications Association; SSB BART Group; Telecommunications for the Deaf and Hard of Hearing, Inc.; Verizon; and Yahoo.