By Sandy Bunch VanderPol
Being the first in line to purchase Windows 8, and having the wonderful experience I had with Windows 8, I was both enthusiastic and concerned about the migration to Windows 10. After all, I had come to rely on the Home screen with the tiles, which I had grouped to provide the most convenient workflow for me. Using the smart search on the Home screen to find my Device Manager and to manage my audio and my webcam for streaming was a daily function for me. It was by far the fastest way ever for me to access whatever I needed. Even typing in a name and searching all files to find a PowerPoint, a Word document, or even a photo I had captioned was done with one click. The rumor was that this feature was disappearing in Windows 10! "What would replace it?" I wondered. I had not ventured into the world of Beta testing Windows 10, but I know others who had. They informed me that Windows 10 was what Windows 8 should have been.
So when Microsoft sent me an email to sign up for the Windows 10 download on July 29, without hesitation I agreed. My only caveat was that I control the download, and I selected the option to download when I requested. So on Aug. 6, I awoke early to boot up my Windows 8 computer to update to Windows 10. I had planned on an hour or two for the download. After making my coffee and dressing for an hour jog, I clicked on the download for Windows 10. I answered the first few questions about what nickname I wanted my computer to know me by (more on Cortana later), heard the pleasant new Windows 10 sound as the download began, and felt comfortable when I read the message that the download would take up to an hour and that it would occur without any clicks by me. So off for a jog.
Returning an hour or so later, my computer was ready for the final click to initiate Windows 10. Without hesitation, I made the click and was staring at what I thought was Windows 7. Where was my Home page I had become accustomed to?
So without further elaboration on what might have been, here is my experience with Windows 10:
Windows Edge is the new Internet Explorer or Google Chrome – in my opinion, it is better and easier to use. It allows you to annotate the Web page, save it in OneNote, and organize or send it to others. Think of Edge as your hub. This hub allows you access to your favorites, your reading list, your browsing history, and current downloads all in one click. Here is a screenshot of a Web page that has been highlighted: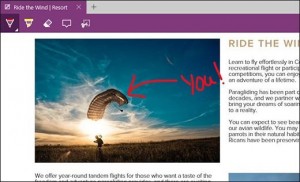 Meet Cortana. (I've met her over the past year using my Windows phone, and I am happy to see her on my computer.) She can be your new friend and director of each day. As you can see in the photo above, Cortana will greet you each morning with the weather, your calendar, or however you choose to customize her pane. Cortana is the voice-activated go-to personal assistant to search for anything you need. So personalize what Cortana provides you upon boot up. If you prefer, you can type in your search. (Now all I need is a microphone to Cortana during my realtime reporting to have her search for a word!)
Upon discovering these features, I dove into my workflow programs. Stenograph CATalyst and all of my files and drivers were migrated without a hitch.* LiveDeposition migrated without a hitch (I have yet to stream since I just updated to Windows 10, but LiveDeposition ensured compatibility). YesLaw was an easy migration, too.
Now moving on to my financial workflow group, I found that for each of those websites, I had to re-enter my user name. On Windows 8, I had saved the user name so only had to enter my password for each site. Before updating, be sure you know your user name for each of your important sites. I have created an Excel spreadsheet where I list each and every site I have created a password for. I have password protected this Excel file with a password that is considered very high.
Another feature I have grown to use often is the Task View. This is the icon on the task bar that looks like a movie camera. Just click on that icon and it brings up all of my open apps. It is easy to access my depo notice while at the same time being in my CAT program.
Snap in Windows 10, if you are familiar with it in Windows 8, is much more functional. Snap lets you put more than two programs on one screen.
Use your notifications feature in Windows 10 – it is superior to Windows 7 and Windows 8. Notifications in Windows 10 are more than just a one-line alert. You can expand and interact with them, and take action on some, too. Select the notification banner from your desktop or the notification in action center to open the app where the notification originates. If there's more to see in the notification, select the arrow to expand it and get all the details. For some apps, such as messaging apps, it's possible to reply to messages or interact with the app directly from the expanded notification.
One negative thing I have noticed is the speed of Windows 10 is slower than Windows 8. This could be an issue on my specific computer, as I'm within 25 percent of a full hard disk after uploading to Windows 10.
With only one issue, speed, I think the migration was a success. For those on Windows 7, it will be a much easier migration than you think. Your familiar Desktop will be front and center upon updating. After spending a long day on Windows 10, I'm a happy convert from Windows 8. I do realize I have much more to learn.
*The JCR has reached out to several vendors and plans to publish additional information about their integration to Windows 10.
Sandy Bunch VanderPol, RMR, CRR, Realtime Systems Administrator, is a freelancer from Lotus, Calif. She can be reached at realtimecsr@calweb.com.