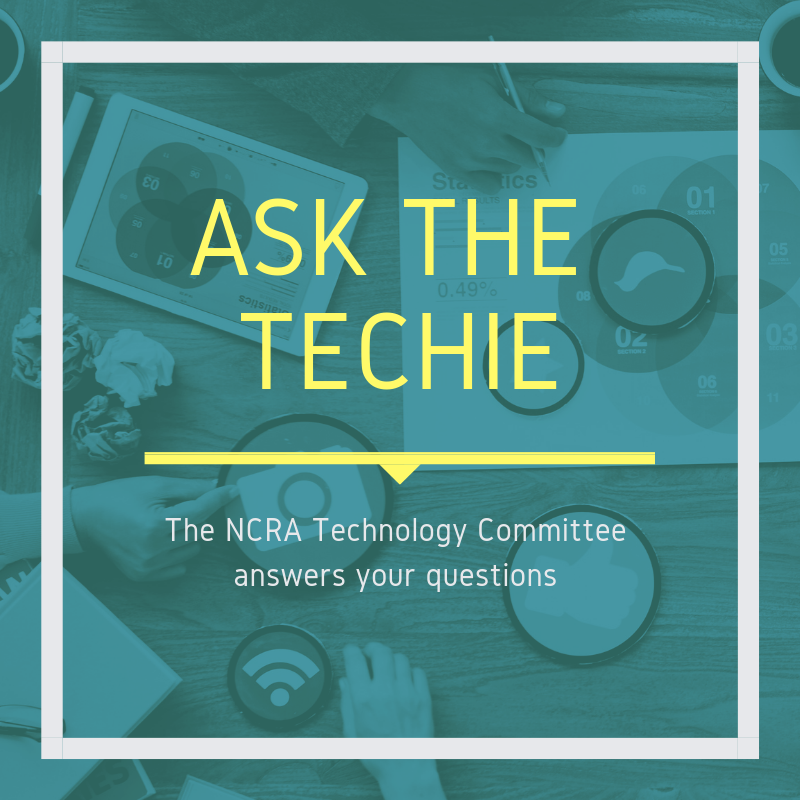 Dear Techie:
With the pandemic crisis and all the change that we have been experiencing these past few months, including trying to get up to speed with new ways of doing business and doing remote depositions via Zoom from home, I'm finding that my office chair is not working for me anymore! I feel like I don't have the support I require, and I'm feeling the aches and pains into my upper back and shoulders. Do any of the Tech Committee members have personal experience and insights into what I should be looking for when shopping for a new office chair? Ergonomics, price, aesthetics, and features are important factors. I just need a little extra advice and guidance.
Screaming for a massage!
———————————————————————-
Dear Screaming,
We've got your back!
The Tech Committee did some research for you and found several websites that have recommendations for the best office chairs of 2020.
According to the New York Times Wirecutter: "Many cheap office chairs make you feel like you've been crammed into a torturous economy seat on a cross-country flight, but quality office chairs upgrade you to first class — they're designed to support your body comfortably for the long haul. We've researched dozens of office chairs, interviewed four ergonomics experts, and had test panelists with a variety of body types sit in deliberation for over 175 collective hours. And since 2015, we've found that the Steelcase Gesture is the best office chair for most people."
Click here for their top picks.
BuzzFeed curated their list of office chairs, too — 26 Of The Best Desk Chairs You Can Get Online. The prices for chairs in their list range from approximately $65 to $400. There are lots of "fashionable" and colorful options in their list.
The committee loves Gear Patrol's intro to their article on their best office chair picks!
"Long has the doom of sitting been forecasted. Published papers aplenty have argued that a stationary life is shorter and trouble-ridden, and the primary workarounds are many — standing desks, frequent breaks, stretching, taking walks, and so on. But none address the simple fact that, sometimes, to get shit done, we simply need to plant ourselves in a chair and get after it.
Luckily, a number of companies are working to beat each other at building the best office chairs, even though they all know it's not possible. Not one chair is the best for everyone, so take our guide with lots of salt. If you can, go to stores and showrooms in your area and sit down, lean back, lean forward, pull levers and ask questions about everything. Your back, muscles, various joints and brain will thank you."
ZDNet.com writes about the Best office chairs in 2020: Herman Miller, Secretlab, La-Z-Boy, Steelcase, and others.
And, finally, our last link to share is from Tom's Guide; and the article offers up the best office chairs for getting work done in your home workspace.
Lynette Mueller, FAPR, CRR, RDR, Chair of the Tech Committee, advises that she invested in her health and trying to stave off upper back and shoulder pain by purchasing the Herman Miller Embody chair. Here's her testimonial about the Embody:
"For years I used a Hon office chair — basically, a secretarial chair. When I was younger, it didn't really bother me. As the years passed, I found that I was experiencing more fatigue and upper back and shoulder pain for those rush transcript days. I finally took the plunge and did my research to find the perfect office chair! It took weeks of searching online reviews, heading to the office stores and sitting in different models. If you can, it's very important to test the chair out before purchase. Every body is different. One that works for me may not work for the rest of my court reporter colleagues.
"During my quest, I landed on the Herman Miller Embody chair. Lucky for me, the store that carried this particular model had a policy where I could try it out for two weeks. If I didn't like it, I could return it — no questions asked. I was hooked! The chair was delivered to my home, and I've never looked back. It's amazing!"
Mueller points to the Herman Miller website, which says: "More than 20 physicians and PhDs in the fields of biomechanics, vision, physical therapy, and ergonomics contributed their expertise to help guide the development of this chair. As a result, Embody has set a new benchmark for pressure distribution, natural alignment, and support for healthy movement in ergonomic seating.
"Thanks to a dynamic matrix of pixels, Embody's seat and back surfaces automatically conform to your body's micro-movements, distributing your weight evenly as you sit. This reduces pressure and encourages movement, both of which are key to maintaining healthy circulation and focus."
Mueller continues with her own review of the chair: "They're not wrong! Since my Zoom depositions have started to pick up a bit, I'm rediscovering all over why I love this chair. You know those office chairs in other conference rooms that have the arms so close you feel claustrophobic and feel like you're suffocating and can't move? With this Embody chair, I can simply slide the arms away from me to have more movement and I'm ready to write. It's important to be comfortable in your chair to try to overcome the Zoom fatigue many people encounter at the end of the day."
Sandra M. Mierop, FAPR, CRR, CCP, CBC, a member of the Tech Committee, has lots of great things to say about her office chair she purchased many years ago — the Herman Miller Aeron. Coincidentally, this chair is listed as a top pick on a few of the links we've shared above. Mierop shares her experience:
"The sign of a good work chair is one that you don't even think about. You sit in it every day for hours. And at the end of each day, you get up and go about your life with no pains or knots in your body, so there's no reason to even think about the chair. But I do think about my Aeron chair when I take an all-day deposition in a chair that's not my Aeron!
"I've had mine for about 18 years now. It still really looks brand-new. It was spendy then and it's spendy now, but it's not as spendy as nine months' worth of physical therapy resulting from beating up my body using terrible equipment; right?
"My Herman Miller Aeron chair is like a hammock for my body. A hammock with support in all of the right places. Mine is set up so that when I take my eyes off my computer or if I get a phone call, it bounces back a little bit, like a recliner with a little bit of rocking. When I get back to working, it goes right back to supporting me in all the right places again. The chair has an adjustable lumbar support that looks like one of those fanny packs that you wear around your waist when you go hiking. I'm pretty sure that I had to pay extra for the lumbar support when I first purchased the chair. It was worth it!
"The chair comes in three different sizes: A, B, and C. Mine is an A. After I initially set my chair up for my body, I haven't needed to change it. It's always done what I needed it to do, so there's no need to think about it.
"I've even had my Aeron chair delivered to courthouses, hotels, and convention centers when I have an extended assignment.
"I also have a couple of Herman Miller Laptop Scooters that I use that can adjust up and down, with a tabletop that can be placed in various angles; and my Aeron chair can scoot as close as I need it to be without jamming up the wheels on the chair.
"The Aeron chair circulates the air in the room around it so that you don't get hot and sweaty from marinating in your work chair all day. My only beef with the chair is that I need to keep a sweater or wrap handy when my workspace gets drafty."
There are many more good chairs available now than there were 18 years ago when I bought mine. Shop around, test them, ask your reporter friends what works for them — and find a chair that you don't even need to think about.
Good luck and happy shopping!