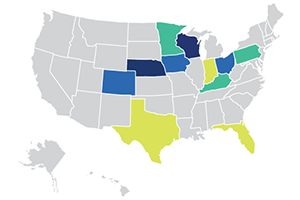 Join the growing number of state court reporting associations and court reporting programs that have already put plans in place to mark the 2016 Court Reporting & Captioning Week taking place Feb. 14-20. The weeklong event, sponsored by NCRA, is designed to highlight the contributions of stenographic court reporters and captioners to society and to showcase the growing number of career opportunities that exist in the court reporting and captioning fields.
Looking for ways to participate? Visit NCRA's Court Reporting & Captioning Week awareness page for an array of resources tailored for members, state associations, and court reporting schools. Resources include press release templates, sample proclamations, talking points, posters, presentations, links to the Take Note campaign materials, and more.
"It's exciting to see so many members sharing their plans to celebrate our profession's week this year. Since its launch in 2012, participation in Court Reporting & Captioning Week by NCRA members, state affiliates, and schools has increased tremendously," said NCRA President Steve Zinone, RPR, an official court reporter from Pittsford, N.Y.
"Participation can be as simple as telling someone about what you do as a court reporter or captioner to hosting an open house or visiting a high school to share the benefits of this wonderful profession. I encourage everyone to get involved by marking the week in some form or fashion. It would be incredible if NCRA were able to report an activity in every state for this year's event," he added.
Other activities for celebrating the week also include supporting the National Court Reporters Foundation, the philanthropic arm of NCRA by contributing to one or more of its many giving platforms such as its Angels program, Student Initiatives program, Major Gifts program, or its Thoughtful Tributes program. For more information about supporting NCRF, visit NCRA.org/Foundation.
Below are some of the latest activities happening during the week around the nation:
Members of the Pennsylvania Court Reporters Association will exhibit at the state's school counselors association's 60th annual conference being held at Hershey Lodge in Hershey, Pa. The volunteer members will provide demonstrations of realtime reporting as well as provide information about the careers in court reporting and captioning.
The Wisconsin Court Reporters Association has challenged its members to conduct three events promoting court reporting before April 8 to qualify for a free membership. To aid members, it has shared a list of resources and activity ideas.
Students and faculty from the court reporting program at Madison College, Madison, Wis., will staff information booths outside of the school's cafeteria for three days to promote the profession and the program and to answer questions about the career path of court reporting and captioning. Students from all of the college's programs are invited as well as members of the public and school counselors attending the state's school counselor association's annual meeting nearby.
The Minnesota Association of Verbatim Reporters and Captioners is teaming up with Anoka Technical College, Anoka, Minn., to host an awareness event. Volunteers will offer demonstrations of realtime and answer questions about the court reporting and captioning professions. The school will also offer tours of its captioning suite. Invitees include all the state's judges, legislators, students, captioners, and reporters. MAVRC and Anoka Tech have also reached out to deaf and hard-of-hearing organizations.
The Florida Court Reporters Association has secured an official proclamation from Gov. Rick Scott recognizing 2016 Court Reporting & Captioning Week. In addition, FCRA has created flyers that will be posted in every courthouse across the state. The posters celebrate stenographers by noting that they have preserved and protected the integrity of the record for more than a century. The posters also include pictures of steno machines from the years 1919 to 2000.
NCRA members in Louisville, Ky., have reported that Mayor Greg Fischer has proclaimed Feb. 15 Court Reporting & Captioning Day.
For a complete list of activities happening to mark the 2016 Court Reporting & Captioning Week, visit NCRA.org/Awareness.
NCRA members, state associations, and schools are urged to share with the Association updates about how they plan to celebrate 2016 Court Reporting & Captioning Week by emailing aroketenetz@ncra.org.
For more information, visit NCRA.org. Career information about the court reporting profession — one of the leading career options that do not require a traditional four-year degree — can be found at crTakeNote.com.