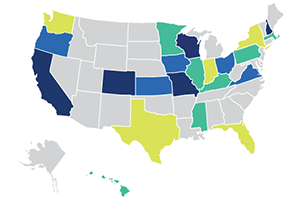 Court Reporting & Captioning Week has put a number of NCRA members in the media spotlight, sharing information with viewers and readers about the vast number of opportunities available in the field.
Kicking off the week, Christine Phipps, RPR, owner of Phipps Reporting in West Palm Beach, Fla., was featured in a story aired by CBS affiliate channel 12, while NCRA Past President Nancy Varallo, RDR, CRR, owner of The Varallo Group in Worcester, Mass., joined NCRA member Kathy Silva, RPR, CRR, a freelancer from Andover, Mass., in a story that aired on Mass Appeal.
Appearing in print on behalf of NCRA and the court reporting and captioning professions were NCRA members Donna Cascio, RDR, CMRS, an official court reporter from Somerset, Pa., who was interviewed by the Somerset Daily American, and Melanie Oldham, an official court reporter from Athens, Texas, who was interviewed by the Athens Daily Review. Additional coverage is expected to be generated throughout the week.
NCRA President Steve Zinone, RPR, an official court reporter from Pittsfield, N.Y., joined Tonya Kaiser, RPR, CMRS, a freelance reporter from Fort Wayne and president of the Indiana Court Reporters Association; Susan Gee, RMR, CRR, a freelance reporter from Cincinnati and president-elect of the Ohio Court Reporters Association; and Kathy McHugh, RPR, CRR, a freelance reporter from Philadelphia and president of the Pennsylvania Court Reporters Association in a panel discussion at the College of Court Reporting, in Hobart, Ind., on Feb. 15. The discussion, which took place online via the college's Blackboard Collaborate, was hosted by CCR President Jeff Moody. More than 30 participants joined the discussion to hear what the panelists had to say about the greatest challenges they faced in court reporting school and how they overcame them, as well as how they were motivated to become leaders within their associations, the benefits of membership at the state and local levels, and the importance of certification. The hour-long session was recorded and can be heard here.
On Feb. 17, Zinone will visit Cuyahoga Community College in Cleveland, Ohio, where he will address students and faculty at the court reporting program. He is scheduled to deliver a keynote address at 2:30 p.m. ET which can be accessed via the college's Smart TV channel online.
Official proclamations recognizing 2016 Court Reporting & Captioning Week from state and local lawmakers continue to be reported. To date, the following states have reported official proclamations: California, Colorado, Florida, Illinois, Kentucky, New Hampshire, New York, Ohio, Oregon, Texas, Virginia, and Washington. Local proclamations have also been issued in Miami-Date County, Fla.; Johnson County, Kan.; Louisville, Ky.; Eugene, Ore.; and San Antonio, Texas.
Below are some of the latest activities happening during the week around the nation:
The New York State Court Reporters Association will host a variety of events during the week including meet and greets throughout the state.
Members of the Texas Court Reporters Association are will host a number of Veterans History Project events throughout the state.
The Hawaii Court Reporters and Captioners Association has encouraged members to display the official 2016 Court Reporting & Captioning Week logo on their social media sites, hang posters at courthouses showcasing the event, and reach out to state and local lawmakers to remind them of the week.
Members of the Oregon Court Reporters Association will participate in a number of meetings with lawmakers and advocacy groups to bring awareness to the court reporting and captioning professions.
For a complete list of activities happening to mark the 2016 Court Reporting & Captioning Week, visit NCRA.org/Awareness. For more information, visit NCRA.org. Career information about the court reporting profession — one of the leading career options that do not require a traditional four-year degree — can be found at crTakeNote.com.