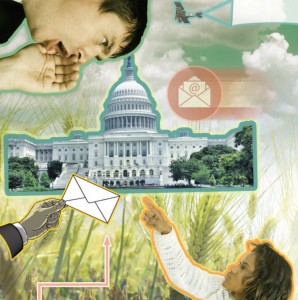 By Adam Finkel
In late March, over 65 court reporters and captioners traveled to our nation's capital for Legislative Boot Camp. On Tuesday, March 22, we all "stormed the Hill" to meet with U.S. senators, representatives, and congressional staffers to lobby for the reauthorization of the Training for Realtime Writers grants, a program that I discussed at length several months ago. As the Director of NCRA's Government Relations Program — and perhaps I'm a bit biased — Legislative Boot Camp is my favorite program that NCRA offers. As someone who is not a court reporter himself, I love to provide a glimpse to the membership into "my world" of lobbying and meeting with legislators and their staffers. It's a fascinating glimpse where you get to see how the United States Congress really works and to truly be "citizen advocates."
While many people look at the inner workings of Capitol Hill and believe that they cannot make a difference in issues that you care about, interviews and statistics from key staffers and members of Congress show a different story. The Congressional Management Foundation, a D.C.-based non-profit organization, routinely surveys congressional staffers and members of Congress to discuss how to best communicate with your elected officials. Almost universally, constituent visits are an incredibly effective manner of influencing an undecided member of Congress. A whopping 97 percent of respondent said that a visit to the Washington office had "some" or "a lot" of influence on an undecided member. A nearly identical 94 percent said a visit to the district office influenced their boss. Visits from lobbyists to the Washington office register at 82 percent having "some" or "a lot" of influence on an undecided member.
However, once those numbers are broken down further, you will see that citizen advocacy from constituency carries far more weight than any visit from a lobbyist does. Just 8 percent of staffers said in-person visits from lobbyists carried "a lot" of influence on their boss, while 46 percent said the same thing via in-person visits from constituents. Essentially, I am stressing the important role that every American citizen can play in ensuring that effective legislation does get through Congress on issues that you care about. And, as NCRA members, I hope you are willing to take the next step and be helpful with NCRA's grassroots campaign to ensure that the Training for Realtime Writers grants are reauthorized.
Now, even if you cannot travel to Washington, D.C., or the district office to meet with your members of Congress, that does not mean that you cannot be helpful to any grassroots campaign. The same study by the Congressional Management Foundation found that direct, personalized postal letters (90 percent) and personalized emails (88 percent) have "some" or "a lot" of influence on an undecided member of Congress. When you share your story with a member of Congress, you become part of the dialogue on issues that matter. Oftentimes, when I am watching congressional debates, I will see a member of Congress referencing a letter or in-person visit from one of his or her constituents to help prove their point.
To assist, simply go to www.ncra.org/government. You should see a button asking you to take action now. You will eventually be led to a page that will allow you to directly contact your two senators and one representative. This will allow you to tell your unique story about what court reporting and captioning have been great career choices and why more people need to know about that. Your help with directly contacting your members of Congress will help ensure NCRA's success in the upcoming legislative battle that we expect to take place over 2016 and 2017.
Now, I know it is easy to complain about the overly politicized and partisan Congress that we have right now. But as citizens, we all have a role to ensure that our elected officials are accountable to the policies that we are interested in. In 2012, only 55 percent of the country voted in the presidential election. A significantly smaller number than that directly contacted their member of Congress on an issue that is important to them. By exercising your first amendment right to petition the government, you significantly enhance the likelihood of Congress enacting policies that you favor. In this case, I'm urging you to help NCRA's grassroots campaign and help ensure that the Training for Realtime Writers grants are reauthorized and the funding remains available to court reporting and captioning programs.
Adam Finkel is NCRA's Director of Government Relations. He can be reached at afinkel@ncra.org.