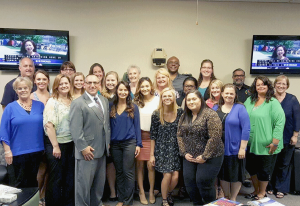 By Natalie Kijurna
College of Court Reporting (CCR) was pleased to host Stephen Zinone, RPR, Canandaigua, N.Y., President of the National Court Reporters Association (NCRA), as a guest speaker at their location in Hobart, Ind., on June 10. Zinone was treated to a tour of CCR's facilities, which ended in a state-of-the-art conference room where he spoke to faculty, staff, and students, both on-site and online, about the history of the profession, including the immense technological advances, the importance and relevance of court reporting in today's world, and the awesome job outlook. Before he left, Zinone took pictures with students and staff and shared his business card with everyone present, letting them know he was available via phone or email anytime someone had a question. After surveying students, it was clear Zinone's visit was a huge hit, not only because he was informative, but he was quite motivational with a dash of humor as well! An awesome combination!
College of Court Reporting was the first online program in the country to be certified by NCRA. With the help of CCR's minute-by-minute evaluation method, the College now maintains one of the highest graduation rates amongst court reporting schools nationally. For more information on CCR, contact Nicky Rodriquez, director of admissions, at 866-294-3974.
Natalie Kijurna is the alumni and employer relations coordinator at the College of Court Reporting. She can be reached at natalie.kijurna@ccr.edu.