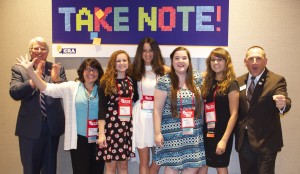 NCRA has declared Feb. 11-18, 2017, National Court Reporting & Captioning Week, an event designed to encourage members and students of the court reporting and captioning professions to celebrate their careers by hosting special events within the community and more. Up-to-Speed reached out to members of the Association's Board of Directors and to students to find out how they plan to mark this year's event.
Why is it important for students to participate in Court Reporting & Captioning Week?
Court Reporting & Captioning Week is the perfect opportunity for students to share insight with friends, family, and members of the community into what their careers will involve and why they chose this field. It is also a chance to spotlight their unique skills and talents that will allow them to capture the official record of a proceeding or provide important realtime captioning to members of the deaf and hard-of-hearing community. By helping to spread awareness about what we do, who we help, and why our work is so important, we celebrate the court reporting and caption professions and our fellow colleagues, whether they are students working toward their goals or seasoned professionals with years of experience.
NCRA President Nativa P. Wood, RDR, CMRS, Mechanicsburg, Pa
Students who participate in Court Reporting & Captioning Week will be invigorated by the camaraderie of court reporters and CART and broadcast captioners who take part in a week of fun celebrating, advocating, and supporting our profession. Your determination and drive will be enhanced after you experience what awaits you upon completion of your court reporting program. Participate! Then go out there and confidently nail your next timing as you envision being a part of a fantastic profession.
NCRA President-Elect Christine J. Willette, RDR, CRR, CRC, Wausau, Wis.
It's important for students to participate because they are in the program and are the most in touch with what would compel someone else to enter into the program. And if for no other reason, it's good karma. To paraphrase Robert G. Ingersoll, "We rise by lifting others."
NCRA Director Christine Phipps, RPR, West Palm Beach, Fla.
Students are encouraged to participate because, as our future reporters in the workplace, they will be the new breed of reporter and will be able to better showcase the newer technologies in our profession. They will be able to see firsthand how appreciated we are each day while we take down the all-important written record of legal proceedings.
NCRA Director Rick Levy, RPR, Miami, Fla.
How are you celebrating Court Reporting and Captioning week?
I'm always thinking of the big picture: how many students or prospective students can we reach, and how can we get many schools and/or colleges to share about court reporting? But I also think each of us can do our part in our section of the world. This year I will celebrate by making it my goal to speak to at least one new person per day about reporting — whether it be a stranger at the grocery store, an attorney, or a high school student — and I will offer them the opportunity to explore court reporting as a possibility. And if not them, perhaps someone they know or a relative. If I speak to three or five, even better, but at least one per day during that seven-day period.
Chair, NCRA Student Committee, Doreen Sutton, RPR, Scottsdale, Ariz.
I plan on asking our program director to send the letter for students about Court Reporting & Captioning Week from the NCRA website to all the court reporting students at Gateway. I will also ask that she highlight our contest in this communication and try to get the students involved. We also have a high school on campus. I would like to see if we could get the guidance counselor to bring a group of students into one of our classes for a demonstration. I will work with the program director on this. There are a couple of young people currently in our program who have been successfully moving along in a quick manner that I think would be better to relate to some of the high school students, and I will approach them about it.
Gretchen House, GateWay Community College, Phoenix, Ariz.
I will post videos each day to my social media page on Twitter. This one and this one will grab the audience's attention.
Shaunise Day, West Valley College, Saratoga, Calif.
The ways to celebrate 2017 Court Reporting & Captioning Week are unlimited. To learn more about how you can celebrate the week or to find the latest in resources, including a student contest, social media tips, and more, visit the Resource Center on NCRA.org or contact the NCRA communications team at pr@ncra.org. And don't forget to share with NCRA what you plan to do to celebrate.