The National Court Reporters Foundation hosted a second Hard-of-Hearing Heroes Project initiative on June 23 at the 2017 Hearing Loss Association of America (HLAA) Convention held in Salt Lake City, Utah. Volunteer court reporters, captioners, and interviewers turned out to help chronicle the service experiences of seven veterans, which will be transcribed for the U.S. Library of Congress Veterans History Project (VHP).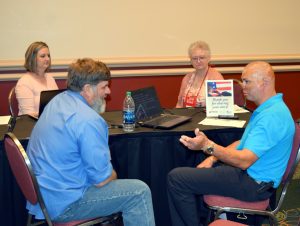 Among those interviewed was HLAA convention keynote speaker retired Staff Sgt. Shilo Harris, who served in the U.S. Army during Operation Iraqi Freedom. He suffered severe third degree burns on 35 percent of his body after his armored vehicle was struck by an IED in February 2007.
Harris's injuries also included the loss of both ears, the tip of his nose, three fingers, and numerous broken bones. The devastating injuries required that he remain in a medically induced coma for 48 days; after, he spent nearly three years recovering and undergoing intensive physical therapy at the burn unit of the Brooke Army Medical Center (BAMC) in San Antonio, Texas. Harris received numerous awards for his service including a Purple Heart, Meritorious Service Medal, and the Army Commendation Medal three times.
While at BAMC, he was the first soldier to participate in cutting-edge regenerative stem-cell research to regrow his fingers and later received prosthetic ears. His recovery has involved more than 75 surgeries. He also has suffered from post-traumatic stress disorder, also known as PTSD. In 2010, Harris was medically retired from the Army. He is now a motivational speaker and author of Steel Will: My Journey through Hell to Become the Man I Was Meant to Be.
"If it isn't written down, it did not happen," said retired Lt. Lynn Hinckley, who served 26 years with the U.S. Army National Guard and volunteered to interview Harris. "My personal takeaway is that stories are important and allow us to pass on our heritage. Personal stories are just that, personal; they carry a power that nothing else can match,"
Hinckley also had the opportunity to interview Randal "Randy" Nelson, a retired U.S. Army Colonel who served during both Gulf Wars including deployments in Afghanistan and Iraq. Nelson earned many awards over the course of his service, including two Bronze Stars and three Legion of Merit awards. Originally from South Dakota, Nelson now resides in North Carolina. During his interview he shared how he lost his hearing in his left ear during a Jet Ski accident, but was allowed to continue his military career by overcoming balance issues and learning to rely on his right ear.
During the interviews, the two veterans were able to connect having both served in the same locations in Iraq, a connection that appeared to help the interviewer and interviewee draw upon a camaraderie that is inherent among veterans.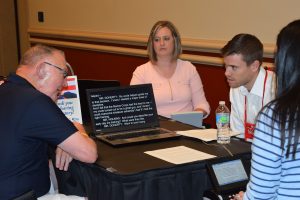 "This project provides an opportunity for nonveterans to get a feel for what military life is like. This is information that would have died with the veteran if not for this project," said Hinckley.
Other veterans interviewed during the event included:
Don Doherty, a retired Marine Corps combat veteran, who lost his hearing during the Vietnam War and has worn hearing aids since 1970. Over the course of his service, Doherty earned the Combat Action Ribbon, the Navy and Marine Corps Achievement Medal, the Navy Commendation Medal, and the Presidential Unit Citation. He has worked for the Department of Veterans Affairs for more than 20 years and currently serves as the vice-chairperson for HLAA. He resides in Moyock, N.C., and was interviewed by fellow HLAA board member Patrick Holkins, an attorney from Washington, D.C.
Mike Wehman, a Radioman 2nd Class and Shellback, who served in the U.S. Navy during the Vietnam War. He served on the Charles S. Sperry destroyer ship, the Wright communications ship, and the Benewah – floating command center in the Mekong Delta. Wehman earned the Vietnam Service Medal and National Defense Service Medal. He resides in Des Plaines, Ill.
Retired Lt. Commander Ron Tallman, who served 22 years in the U.S. Navy. He served during the Vietnam and first Gulf War and was awarded the Navy Achievement Medal, Navy Commendation Medal, and Meritorious Service Medal, among others He is a board member of the Sun Lakes, Ariz., HLAA chapter and co-chair for the Arizona Walk4Hearing. He is originally from Seattle, Wash., and resides in Arizona.
Gerald "Jerry" Hutch, who served in the U.S. Air Force during the Cold War/pre-Vietnam era as an Airman 1st Class E-4. He was born in McKees Rocks, Pa., and served his entire tour of duty in Texas. He currently resides in Helena, Mont. Hutch is legally blind due to age-related macular degeneration has severe hearing loss in both ears, and uses digital hearing aids.
Louis Shaup, who served in the U.S. Army during the Vietnam War as an SP4 and E-4. He served in the Military Assistance Advisory Group Vietnam, conducting top-secret Army intelligence. Shaup earned several awards for his service, including the Vietnam Service Medal. He was born in Ashland, Penn., and now resides in California.
"This interview opportunity was an incredibly profound experience for me," said Matthew R. Barusch, NCRA's Manger of State Government Relations, who volunteered to talk with U.S. Army veteran Louis Shaup.
"The opportunity to hear a firsthand account of Louis' wartime experience was both moving and humbling, and for me, reinforced the necessity of the Veterans History Project. These veterans, who sacrificed a lot to serve our country, deserve to have their stories heard and preserved, and I was honored to be a part of that preservation," Barusch said.
Interviewers and captioners from Utah who also volunteered their time to support the NCRF event included NCRA members:
Amber Fraass, RPR, a freelance reporter from South Ogden
Heidi Hunter, RPR, a freelance reporter from Salt Lake City
Kristin E. Marchant, RPR, a freelance reporter from South Jordan
Phoebe Moorhead, RPR, a freelance reporter from North Ogden
Rossann Morgan, RPR, a freelance court reporter from West Jordan
Ariel Mumma, RPR, a freelance court reporter from Salt Lake City
Michelle Naert, RPR, CRR, CRC, a CART captioner from Saratoga Springs
Lindsay Payeur, RPR, a freelance reporter from Grantsville
Laurie Shingle, RPR, CMRS, from Pleasant View
Cecilee G. Wilson, RDR, CRR, CRC, a broadcast captioner from Kaysville
NCRF's Hard-of-Hearing Heroes Project initiative specifically seeks to interview veterans with hearing loss with the help of CART captioning. Hearing loss is among the most common service-related injuries due to constant exposure to loud noises in training and in combat, and it tends to worsen over time. In addition to preserving these veterans' stories for the VHP, the Hard-of-Hearing Heroes Project introduces CART captioning, which is a service that may benefit these veterans in their daily lives.
NCRF launched the Hard-of-Hearing Heroes Project at HLAA's headquarters in Bethesda, Md., in February, where five veterans with varying degrees of hearing loss chronicled their service experiences.
NCRA members have been listening and taking down veterans' stories since NCRF partnered with the Library of Congress in 2003 to have court reporters transcribe veterans' stories from their collection of now more than 100,000. In 2007, members were asked to preserve the stories of veterans who hadn't yet recorded their histories through personal interviews and VHP Days. To date, NCRF has submitted more than 4,100 transcripts to the Library of Congress.
NCRF's Hard-of-Hearing Heroes initiative is supported by an Innovation Grant from the American Society of Association Executives Foundation. Two more Hard-of-Hearing Heroes events will take place at the Military Order of the Purple Heart National Convention being held in Dallas, Texas, in August, and at the Association of Late-Deafened Adults annual convention being held in Orlando, Fla. in October. NCRF is currently seeking volunteers to participate at both of these events. For more information, please visit NCRA.org/NCRF, or contact April Weiner, Foundation Manager, at aweiner@ncra.org.