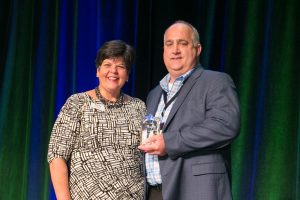 Eileen Beltz, CRI, CPE, an instructor at the College of Court Reporting in Valparaiso, Ind., was honored with the 2017 Council on Approved Student Education (CASE) Award of Excellence. The announcement was made at a special awards luncheon held during the NCRA Convention & Expo in Las Vegas, Nev., Aug. 10-13. Beltz is from Avon, Ohio.
NCRA's CASE Award of Excellence recognizes the important role student education plays in the court reporting profession and honors educators for their dedication, outstanding achievement, and leadership. Recipients are nominated by an NCRA member.
Read all the news from the 2017 NCRA Convention & Expo.