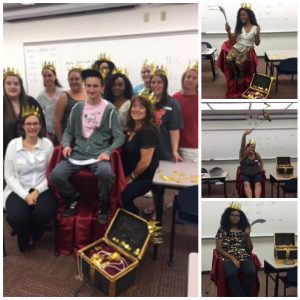 Eleven students from the Cuyahoga Community College, Parma, Ohio, committed to participate in a challenge dubbed "Slay a speed in seven hours," designed to focus them on serious practice time while treating it like the work it is.
During the event, which ran from 7 a.m. until 2:30 p.m., each student was given an individualized practice plan and goal by their instructor. After each hour, progress was evaluated and any adjustments were made accordingly, explained Kelly Moranz, CRI, Tri-C program manager and adjunct faculty.
"After lunch, speed tests were taken for the remainder of the day. Stroke/word counts were tallied for the day, and 152,203 strokes/words were written," Moranz said. "All students demonstrated progress in their writing, and 12 speed tests were passed — one being a 225 Q&A!"
According to Tri-C Associate Professor Jen Krueger, RMR, CRI, CPE, the idea of the challenge grew from discussions with students about ways to approach practice time seriously.
"The challenge seemed a good way to demonstrate that practice takes a lot of work, by offering students a seven-hour workday. Lots of practice occurs, but in evaluating practice times and habits from homework, it was realized that a focused, longer day of skill development was needed," Krueger said.
According to Moranz, Tri-C offers its court reporting and captioning students similar challenges from time to time, such as seeing who can practice the most hours, who can write the most strokes, and who can practice the most days in a row without missing a single day.
"Students who passed a test received a specially created certificate with a graphic of a sword going through the steno machine. Our focus was to motivate them for the sake of learning and recognize their efforts toward success, with a tangible prize secondary to the personal reward of gaining speed and accuracy," Moranz said.
"I attended the 'Slay a speed' event, and it was beneficial for me because I passed a speed test," said Tara Harris, a student in Tri-C's court reporting program. "I think it helped to be away from home in a classroom setting or maybe it was the structure of the event with the mission to write as much as you can each hour. Also, our phones were confiscated upon arrival, and that helped because I didn't even think about my phone."
"Challenges provide the opportunity for students to focus on the positive aspects of their work, recognize their successes as well as their challenges, build camaraderie, and strengthen their commitment to complete the program and reach their goals," said Krueger.
Krueger added: "Veering away from the usual routine of school work can be invigorating as the personal, academic, and physical skill improvements are seen as positive and motivating."