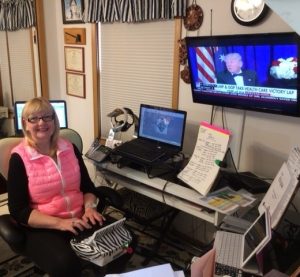 By Cathy Penniston
I live in Iowa, but I make my living listening to the Canadian news. I work for The Captioning Group, Inc., based in Calgary, Alberta, as a remote broadcast captioner four days a week. But every Thursday, I take a break from the news and travel to Newton, Iowa, to teach court reporting students at the Des Moines Area Community College. My goal is to share my wealth of experience with my students. I have worked as an official shorthand reporter, a freelance reporter, a CART captioner, and a broadcast captioner, and I bring this real-world experience to my classes.
As a busy broadcast television captioner and an instructor of court reporting students, I encourage my students to embrace realtime. If my students comment that it is difficult to learn realtime, I remind them that when I went to court reporting school, there were manual Stenograph machines and typewriters. Long vowels? That would be taken care of when reporters sat down at the typewriter to type each page into English from their paper shorthand notes. Nowadays, this is all done instantaneously through high-tech machines.
But more so, I believe that realtime is vital to the continued successful future of the court reporting profession. A digital recording in a courtroom cannot accurately provide a real-time speech-to-text feed of the live proceedings to the judge. And a digital recording cannot provide live captions of breaking news or emergency information broadcast over television stations where realtime captions are needed to save lives.
At first, realtime stenography can seem quite daunting. But excellent instructors and programs can get students on the path to achieving their goals and becoming successful in the field of realtime captioning. Here are seven tips from a broadcast captioner and court reporting instructor to get started on your journey to learning realtime.
Enjoy realtime and the great feeling of success when steno words translate into English correctly. Do not be afraid of realtime.
Analyze and correct every word that does not translate from steno to English correctly. There is a reason for every untranslated word. Why did that word not translate? What can you do to correct that word to make it translate properly for your next transcript? Do not ignore untranslates!
Know your dictionary and how words are going to translate with your dictionary. Finger combinations that work well for one student may not work well for another student. Try the suggested way to write the word. If the finger combination does not work for you, try writing it in a way that will translate for you. Define the word in your dictionary that way and write it down. Practice that word until you have memorized it.
Briefs are good only if you memorize them and remember them quickly. A bad brief is worse than no brief at all. Your goal is a good realtime translation.
Write out every word and add it to your dictionary for the time when you forget your brief. Do not hesitate to remember briefs.
Your goal is great realtime translations, not winning a race for having the most briefs and then hesitating during speed tests trying to remember those briefs. Briefs can be your best friend or your enemy in realtime reporting.
Back up your dictionary every week. Email a copy of your dictionary to yourself and back it up in the cloud.
Realtime reporting is the key to the future of our profession. Embrace realtime as you strive to achieve your goal of graduation from school.
After working for many years as an official shorthand reporter in the State of Iowa, Cathy Penniston, RPR, CRI, CSR, "retired" to pursue her dream of completing her master's degree in teaching and working as a remote television broadcast captioner and teacher. She can be reached at cpenniston@gmail.com. This article was originally published, in a slightly different format, on the blog for The Captioning Group as "7 Things Your Instructor Wants You to Know About Realtime Writing!"