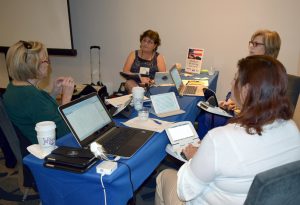 The National Court Reporters Foundation (NCRF) hosted a fourth Hard-of-Hearing Heroes Project initiative on Oct. 13 at the Association of Late Deafened Adults (ALDA) annual conference held in Orlando, Fla. The interviews will be transcribed and submitted to the Library of Congress for its Veterans History Project (VHP).
Volunteer court reporters, captioners, and interviewers captured seven new interviews of U.S. war veterans, including the story of Maj. Gen. Charles W. Sweeney, the only American Air Force pilot to fly on both the Hiroshima and Nagasaki atomic missions during World War II. Sweeney's story was shared by his daughter, Marylyn Howe, of Savannah, Ga.
Howe shared how her father's career as a pilot evolved in the U.S. Air Force, that he had earned a Silver Star for his service, and that he also wrote a book called War's End about his experience on the last atomic mission. Now out of print, Howe said the book will be updated with photos and other materials and reprinted in 2018. She also noted that her late father was instrumental in founding the Massachusetts State Air Guard and was actively involved in helping to establish such volunteer groups throughout all states.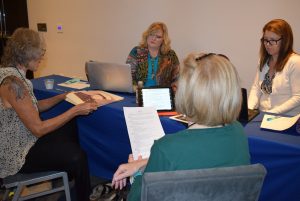 "It is very meaningful that veterans with hearing loss are being recognized and able to share their stories," said Howe, an audiologist who has worked with veterans suffering hearing loss. "Many people don't realize the hearing problems related to service and what a significant impact it can have on lives." Howe also serves as co-chair of ALDA's Publicity Committee.
Howe provided a copy of her father's book that will be included with the final transcript in the Library of Congress.
Howe's husband, Brian, a retired U.S. Marine Corps captain and pilot who suffers hearing loss from long-term exposure to jet engines, shared his story about his service in Vietnam. He also volunteered to interview U.S. Army veteran Ron Walker, SP4, from Merry Hill, N.C. During his interview, Walker shared that he earned the Purple Heart Award and two Bronze Stars for his service in Vietnam.
Cheri Frady, St. Petersburg, Fla., the widow of Teairlton Frady, who served as a sergeant in the U.S. Marine Corps during the Vietnam War, shared letters he wrote home as well as a number of entries from his journals. These materials will be submitted to the Library of Congress with the final transcript. Frady also shared that her late husband was a Native American Onondaga and that he suffered health-related issues caused in part by his exposure to the powerful herbicide and defoliant Agent Orange used during the war.
Other veterans interviewed included:
Paul Morris, Clearwater, Fla., U.S. Army SP4, who served between the Korean and Vietnam wars
Harvey Rothman, Kissimmee, Fla., U.S. Army, SP4, who served in Vietnam
Gary Talley, Petersburg, Va., U.S. Navy, PN3, who served on the U.S.S. John F. Kennedy (CV-67)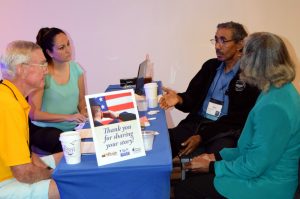 "It is an honor for me to do this. My son is a U.S. Marine, and I am proud of all of our servicemen," said Nancy Rivera, RPR, a freelancer from Valrico, Fla., who volunteered to take down a veteran's story at the event. "I was touched by the first time I did this. It hits home for me. I like to hear their stories and the emotion. It means a lot to them, and it means a lot to me." Rivera noted that this was the first time she had participated in a live VHP event. The first time she volunteered for a VHP event was online.
"This was the first time I participated in one of these events, and I had no idea what to expect," said Laura Landerman, RMR, CRR, a freelancer from Altamonte Springs, Fla. "Most reporters don't provide realtime or captioning, and since I can do both, I volunteered. I would do it again. I liked that I could provide captions to aid the interviewer," she added.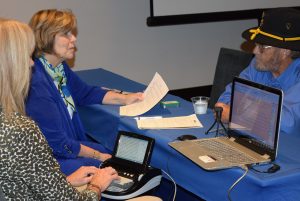 Liz Speer, FAPR, RMR, CRR, CRC, a freelancer from Apopka, Fla., who volunteered to transcribe as well as interview, said participating in the event was especially meaningful to her because her own father had served in the U.S. military.
"The timing was just right. I lost my dad two months ago. He served in two wars, and he would have loved to have been interviewed. That's the primary reason I volunteered. It's also exciting to read those stories already down and know they are at the Library of Congress," she added.
Other volunteer reporters and captioners included:
Michelle Pulido Stubben, Orlando, Fla.
Georgia Rodriguez, RPR, freelancer, Jacksonville, Fla.;
Sheri Smargon, RDR, CRR, CRC, broadcast captioner, Riverview, Fla.
Other volunteer interviewers included:
Carol Menton, case manager for Metro North/Northeast Massachusetts Commission for the Deaf and Hard of Hearing, in Boston, Mass., and an ALDA member
Larry Littleton, Oahu, Hawaii, a member of the ALDA Publicity Committee
NCRA and NCRF were also present on the ALDA expo floor, where NCRA members volunteered by providing captioning and CART demonstrations and answering questions from attendees about their services. Volunteers at the booth included:
Jamie Chancellor, CRC, broadcast captioner, Orlando, Fla.
Amie First, RDR, CRR, CRC, CPE, CART captioner, Orlando, Fla.
Maria Rodriguez, RPR, freelancer, Tampa, Fla.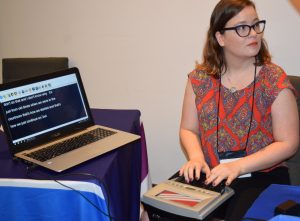 Other NCRA members attending the ALDA conference included Pat Graves, FAPR, RDR, CRR, CRC, a CART captioner and agency owner from Monument, Colo., who chairs ALDA's CART committee; and committee members Tess Crowder, RPR, CRR, CRC, a CART captioner and agency owner from Tampa, Fla.; Anthony Trujillo, RMR, CRR, a freelance captioner from Kissimmee, Fla.; and Rita Meyer, RDR, CRR, CRC, a CART captioner from Orlando, Fla.
NCRF's Hard-of-Hearing Heroes Project initiative specifically seeks to interview veterans with hearing loss with the help of CART captioning. Hearing loss is among the most common service-related injuries due to constant exposure to loud noises in training and in combat, and it tends to worsen over time. In addition to preserving these veterans' stories for the VHP, the Hard-of-Hearing Heroes Project introduces CART captioning, which is a service that may benefit these veterans in their daily lives.
NCRF launched the Hard-of-Hearing Heroes Project at the Hearing Loss Association of America's headquarters in Bethesda, Md., in February, where five veterans with varying degrees of hearing loss chronicled their service experiences. In June, seven veterans were interviewed during the 2017 Hearing Loss Association of America's Convention in Salt Lake City, Utah.
NCRA members have been listening and taking down veterans' stories since NCRF partnered with the Library of Congress in 2003 to have court reporters transcribe veterans' stories from their collection of now more than 100,000. In 2007, members were asked to preserve the stories of veterans who hadn't yet recorded their histories through personal interviews and VHP Days. To date, NCRF has submitted more than 4,100 transcripts to the Library of Congress.
NCRF's Hard-of-Hearing Heroes initiative is supported by an Innovation Grant from the American Society of Association Executives Foundation. For more information, please visit NCRA.org/NCRF, or contact April Weiner, Foundation Manager, at aweiner@ncra.org.