Cuyahoga Community College (Tri-C), in Parma, Ohio, and Realtime Coach have partnered to host the first ever national realtime skills test competition for court reporting and captioning students. This competition is open to all students across the country, not just students at Tri-C. Registration for the event opens Dec. 20 and runs through Jan. 8, 2018. The tests will be offered at the end of January, and the winners' names will be announced during NCRA's 2018 Court Reporting & Captioning Week being held Feb. 10-17.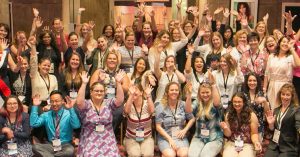 According to Jen Krueger, RMR, CRI, CPE, professor at Tri-C's captioning and court reporting program, the test will be a five-minute audio Q&A realtime skills examination. The cost to register is $10, and registration is limited to the first 200 students who sign up. Students can choose from 120 wpm, 140 wpm, 160 wpm, or 180 wpm but are limited to taking only one test.
"We were inspired to do something that would mimic the professional test competition, promote focused practice and effort regarding realtime writing, and motivate students to practice in a more competitive manner than they may normally experience," said Krueger about what motivated the college to partner with Realtime Coach to host a national student competition.
"We wanted to offer something fun and challenging to students across the country," added Kruger. Announcing the results during Court Reporting & Captioning Week will let us celebrate "the dedicated, excellent work of students, schools, and the court reporting industry," she said. "Motivation to practice and enhance their skills, build accuracy and speed, find an inner strength to do well, [and] spotlight realtime writing skills should be an essential aspect of all court reporting and captioning students."
Registration to compete in the contest will be through Realtime Coach; however, students do not have to be enrolled in Realtime Coach in any other way to participate. Registrants must attend a short webinar to demonstrate how to take the test. The webinar will be available Jan. 9, 2018, at 8 p.m. ET and again on Jan. 10, 2018, at 1 p.m. ET. Prior to participating in the contest, students will also have an opportunity to practice accessing, taking, and uploading a test.
To participate in the contest, students will register at Realtime Coach, create a new account, and complete the form that appears. They can then click the purchase button to buy their desired test. A realtime test score of 95 percent or higher is required to pass the test.
For more information about the realtime skills test competition, including practice and testing dates and times, contact Jen Krueger at jen.krueger@tri-c.edu.