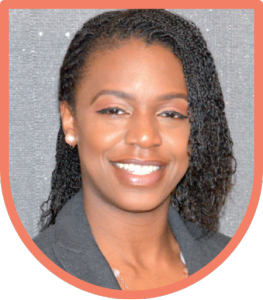 Official court reporter
Currently resides in: Detroit, Mich.
Member since: 2002
Graduated from: Academy of Court Reporting
Theory: Realtime compatible
JCR | Why was it important for you to earn the RDR certification?
EDDINGTON | I made it my personal goal to become a part of this exclusive club that only welcomes the best of the best. Being a Registered Diplomate Reporter means that I have attained the highest level of excellence in the field of court reporting and it commands respect from my peers. I have obtained many certifications that have helped advance my career and I have remained humble. But when I passed the RDR, I shouted from the rooftops and let the world know! Most importantly, those letters look great behind my name.
JCR | Why do you think professional certification is important?
EDDINGTON | NCRA certifications separate the wheat from the chaff. When it comes to employment, certifications let potential employers know that I am qualified for the job even before opening my mouth to speak. So the only thing left for me to do during an interview process is to focus on my experience and wow them with my winning personality.
JCR | What has been your best work experience so far in your career?
EDDINGTON | Yes, I have corralled upwards of 75 attorneys and taken charge during those court proceedings to make sure the record remained accurate and uncompromised. Yes, I have earned in two weeks what is equal to a half year's salary for some. Yes, I have earned a litany of certifications. But the most rewarding part of my career thus far has been teaching! In the 18 years I have been in this wonderful field, the most fulfilling part of my job is when I am able to help others – be it teaching, mentoring, or the occasional pro bono work.
JCR | Is there something else you would like to share about yourself?
EDDINGTON | Outside of my demanding job, I love to spend quality time with my husband and our tween and toddler daughters. I have even calendared events such as Meatless Mondays where we try different vegetarian recipes; Workout Wednesdays where we do a physical activity together as a family; and Family Fridays, which can include anything from board games to movie night. In addition, I enjoy vegetable gardening and creating artwork.